iCOS LIVE Online Transport Management
Plug your revenue leakage
iCOS LIVE is an online transport management tool transforming the transport and logistics industry by giving back to operators the control and transparency they need to plug revenue leakage, taking them from a paper based world to a paperless world. In partnership with DIRECTOR, businesses gain insight into both the freight and location of a vehicle.
Freight Visibility
MANAGE YOUR FREIGHT AND TRUCKS
Teletrac Navman has partnered with iCOS to offer a complete end-to-end freight and GPS vehicle tracking solution. DIRECTOR provides insight into the location of a vehicle and iCOS delivers information on its freight. Customers have the flexibility to place job orders and check on pickups and deliveries online or electronically via Electronic Data Interchange (EDI). Jobs are received by dispatch and passed onto the vehicle to the iCOS GO Android mobile app for real-time 24/7 updates, including proof of delivery. With one view of the dashboard customers can track their delivery while transport operators can see where their drivers are at all times.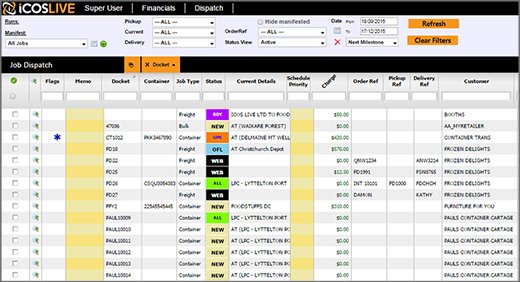 What You Get
FEATURES AND BENEFITS
Configures for general freight, ambient, chilled or frozen; container management and movement including import, export and empty moves and bulk haulage, sand and metal loads
Paperless solution, available 24/7, anywhere, anytime
Electronic proof of delivery provides clarity and customer satisfaction
Auto-dockets each job to not lose any, plugging revenue leakage
Date and time stamps for all movements, transaction updates in real-time including signature capture
Streamlines and gives total transparency and control to run the business
Schedules job orders to enable the dispatcher to control pick-up and delivery
Customers have the ability to self-service by managing accounts and job bookings online or electronically. This increases accuracy and efficiency   
Dropbox storage for documents and consignment notes
Pro-rata reporting kilometres travelled vs moves in conjunction with Teletrac Navman
Can be integrated with XERO, MYOB and other online acounting systems for a seamless paperless solution