SmartTrade Job Management
SmartTrade job management offers solutions for the office and field
The integration between SmartTrade job management solutions and Teletrac Navman GPS fleet management offers significant time savings, much better visibility into job progress and more accurate costs.
Manage Your Workflow
BETTER JOB MANAGEMENT
SmartTrade offers integrated office and field job management solutions to a wide range of industry and trade businesses. It allows you to manage your field staff and do job quoting and scheduling, timesheets and invoicing with one hassle free, paperless online platform.
Businesses can view current locations of vehicles and their activity such as scheduled appointments and completed jobs all on one screen while adding and assigning new jobs to staff who are nearest to a client side. SmartTrade helps to build a stronger business by providing a sound platform for day-to-day administration, allowing business owners to spend more time working on the business, rather than in the business.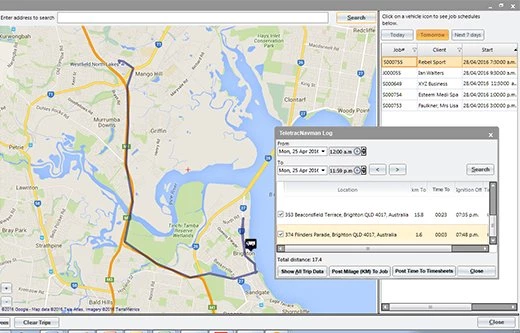 What You Get
FEATURES AND BENEFITS
Log customer enquiries
Create various types of jobs – quotes, estimates, time and materials
Set up job templates
Assign, schedule & dispatch jobs
Process orders and invoices
Import supplier price books
Complete and cross check timesheets in conjunction with Teletrac Navman
Track job costs in conjunction with Teletrac Navman
Integrate with accounting software
SmartGate – allows your customers to log and view jobs
Paperless solution, available 24/7, anywhere, anytime