Herberts Transport
Fleet Management Software Makes Life Easier for South Island Operator
At-A-Glance
100% by-the-minute visibility of its
50+ vehicles and assets
Fast and easy electronic Road User
Charges system streamlines licensing
and rebates
Maintenance alerts makes operations
more productive and efficient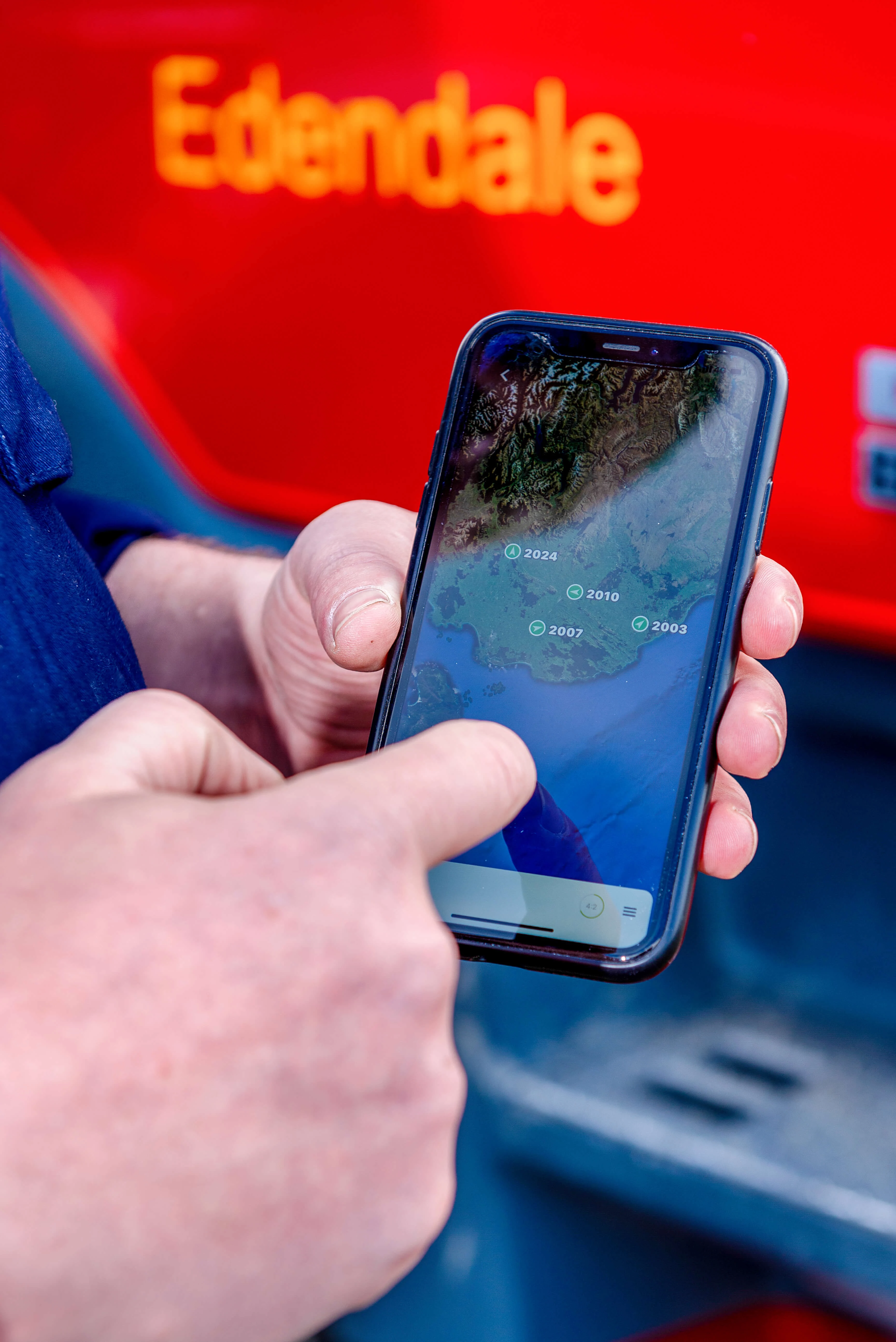 Easy, effective and reliable. That's how Herberts Transport summarises their experience with Teletrac Navman's fleet management solution. It gives Managing Director Scott Hutton full overview of where all the vehicles in his fleet are and what they're doing. This translates into happy customers, less admin time and a well-maintained fleet.
A better service for customers
Herberts Transport has a mixed fleet of around 50 vehicles, which includes livestock, bulk trucks, spreaders, whey trucks and trailers. They needed an easy solution that provided an overview of the status and location of all their fleet, along with features like service alerts and electronic RUC to help eliminate manual processes.
Teletrac Navman's fleet management solution makes managing the operation a breeze, allowing Scott to enjoy the user-friendly interface to check the status of the fleet all the way down to the individual truck.
"Through the app on my phone, I can quickly check the status of all divisions of vehicles through the easy-to-use overview. So, if a farmer asks about our ETA, I can easily check the truck location on the app and let them know."
"I was on farm with a client the other day and wanted to know where a truck was for a more accurate ETA– and I just jumped on my phone, tapped on the truck and I could see it was getting unloaded at Alliance Mataura. That's what I love about Teletrac Navman's system, the ease of knowing where all my trucks are no matter where I am," Scott says.
Proving its drivers are not at fault
Because of their large mass, trucks tend to be over-represented in serious crashes. Deaths from crashes involving trucks make up around 20 percent of the total road toll (5-year average). Yet between 2012-2016, of all crashes that involved another road user, trucks were only at fault in 34% that caused injury, and 20% in fatal crashes.
Herberts Transport's whole fleet has adopted the use of in-vehicle cameras as a tool to help rule out their drivers in potential incidents. As is often the case, the truck driver is blamed and it's hard to refute due to the dominant size of the vehicle. There had recently been an incident involving one of their vehicles and a car at a roundabout. After watching the video recording, Herberts realised that it was the car at fault – not the driver – as they could clearly see what happened.
"Even though I understand that some truck drivers are unsure about having a driver-facing camera in their truck, when you're in my position, you only use them to get drivers out of incidents, rather than a surveillance tool," says Scott.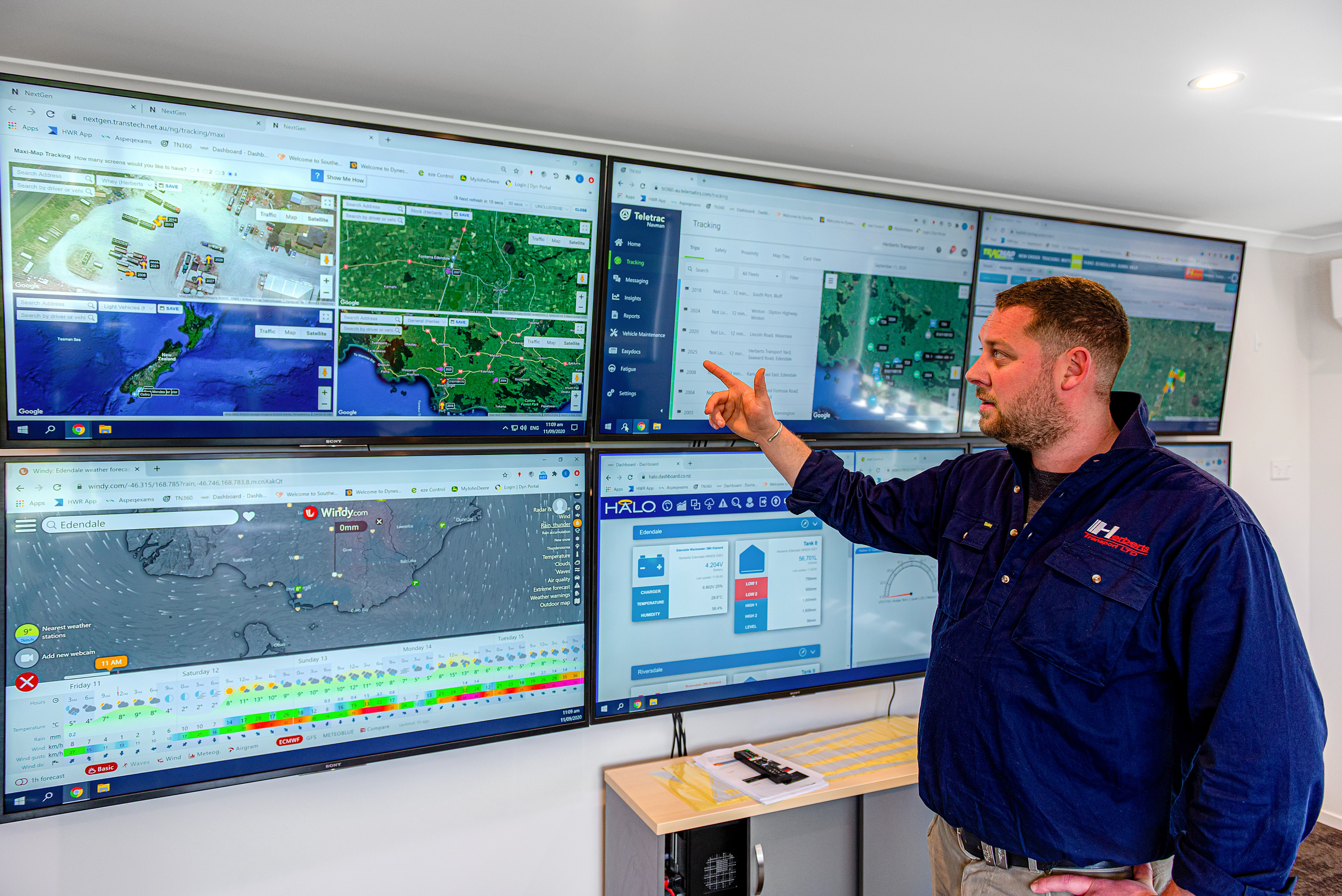 Electronic RUC for trailers
Previously, managing the Road User Charges (RUC) on independent trailers was either through manual hubometers, or using units that required to be wired in directly to the electronics of the trailer itself. Both were impractical and time-consuming – all it took was one broken wire or a driver with multiple trailers to manually enter the wrong RUC details, and it would affect the RUC data, causing headaches down the line.
The trailer solution automates RUC licencing and rebates for trailers. It also calculates each distance travelled on private roads to provide correct rebates. Combined with the auto purchasing technology, electronic RUC saves him at least a couple of hours a week in administration. Best of all, it tracks RUC for the individual trailer independent of the truck it is attached too, reducing confusion, removing processing time and automatically updating licences instantly.
"When submitting the rebates for private roads, all the info is there. We just have to click on a button to submit – and that means more time saved. Electronic RUC is incredibly useful, it's ideal – the best thing about the whole solution."
Maintenance: it just works
Herberts Transport has a full-time mechanic who uses Teletrac Navman's software for managing the Certificate of Fitness and general servicing. "Using the solution for maintenance makes operations more productive and efficient because we're utilising the gear and spending more time on the road than off the road," says Scott.
Jason gets email alerts at 1500km before a vehicle is due for a service, set up to suit the operation and the workshop team.
Herberts Transport has also introduced electronic pre-trip checklists. As soon as there's a checklist that is submitted that identifies a defect, Jason will be notified.
Depending on the severity, the team can then schedule a service, prevent the vehicle from leaving the yard, or order parts. This helps Scott and Jason to stay in control, as drivers can be anywhere in the country on jobs, so they can plan the servicing or refits as soon as the truck returns.
"Teletrac Navman is the first system I've used in my job, and it's very easy to use. Before, the driver and back office would have to write down details of the truck's maintenance, now it's just a press of a button. I even get a text or email notification if there's a fault with a truck. It just works," says Jason Fowler, Head Mechanic.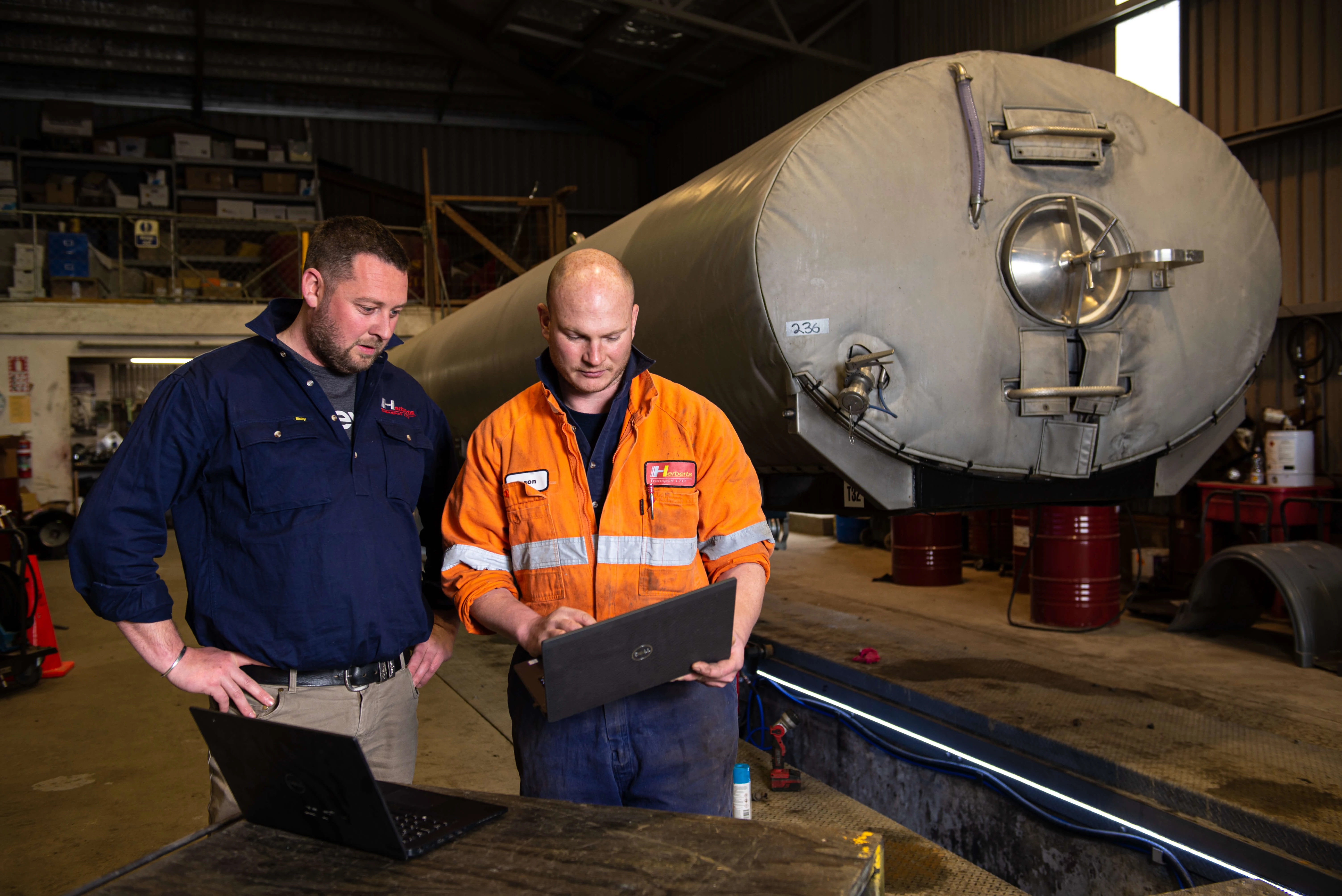 About Herberts Transport
Herberts Transport is a rural transport company that was established in 1918, and is based in Edendale, Southland. Joint ownership by Scott Hutton, Dynes Transport and HWR, it operates 23 trucks specialising in carting stock, bulk cartage, fertilizer cartage and spreading. It also carts and distributes products from the dairy giant Fonterra; carries supplies of gravel, cement and coal for sale to the public; operates vacuum trucks and a fleet of modern tractors, slurry spreaders and muck spreaders. Herberts Transport is always trying to improve through integrating a top standard of technology and innovation while working towards a better future for everyone.