Electronic Documents and Forms
In-Vehicle Electronic Documents & Forms
Eliminate paperwork from the cab of the vehicle
Transport operators and drivers need to keep a large number of documents in vehicles to meet various legislative requirements. Ensuring every driver has the correct documents can be a tedious exercise as they often get updated. Documents can be stored electronically, which helps to make paperwork a thing of the past. With the ability for businesses to create as many digital forms as required for drivers to complete while on the road. Move forward into a paperless in-cabin experience and realise the benefits of real-time data.
Build Your Solution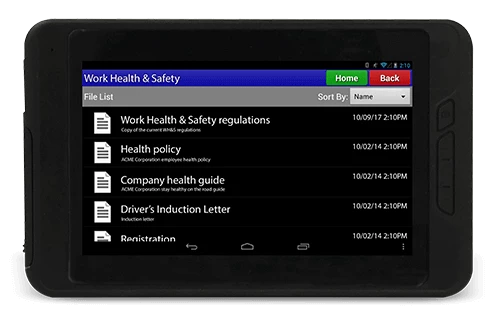 Digitise your workflow
ORGANISE YOUR DOCUMENTS ELECTRONICALLY
Ensuring that all of your documents are valid and up-to-date is an ongoing challenge for any operations, big or small. Storing documents electronically reduces the administration involved with keeping paperwork current, including manuals, permits, site maps, or meeting notes. With Teletrac Navman's Easydocs, your drivers will always have the required documents at their fingertips. Administrative staff can forward updated documents in real-time with ease. 
Reduce Paper in the Business
MAKE PAPERWORK A THING OF THE PAST WITH FORMS
Capturing information has been an issue for any transport company. With drivers constantly in and out of depots and often on the road for days at a time, it can be difficult to get information back in a timely fashion. Recording on paper can often be difficult, constantly being misplaced, damaged or illegible. What about the information that's not being recorded? Fluid fill up levels, incident reports; the list goes on.