Proactive Safety Analysis
Driver and Fleet Safety Analytics
Rank driver risk and replay unsafe incidents
The Safety Analytics module allows managers to measure driver risk and replay unsafe events. Managers can monitor risk on an individual driver and fleet-wide basis. They can also provide coaching based on replays of unsafe driving incidents. Drivers are assigned an individual PIN to record activities, no matter which vehicle they're using. The module provides a wide-ranging depth of information needed to properly assess driver performance.
Build Your Solution
Event Viewer
Instantly See Replays
Our solution places unsafe driving into context with a playback of individual incidents. The Viewer replays the dangerous driving event on Google Maps and provides metrics indicating speed and G-force. By using a mixture of accelerometer, GPS, and map data, the Event Viewer measures the following unsafe events like harsh braking, harsh acceleration, posted speed violation and harsh cornering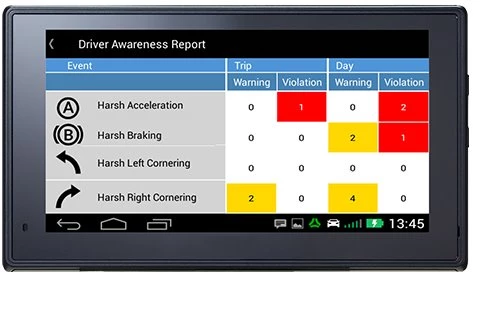 In-vehicle Feedback
Real-Time Performance Alerts
Drivers are given real-time performance alerts through their in-cab hardware device. The system warns drivers when they are approaching a violation, such as running over the speed limit or sudden braking. It provides an additional visual and audible warning when the violation occurs.
Driver Scorecards
Posted Speed Reporting
Driver Scorecards measure and rank driver performance, helping businesses determine fleet-wide safety behaviour. Scorecards rank drivers based on individual violations. The Posted Speed Report lists speed limit violations per driver, giving an easy, single view of which drivers are engaging in high risk behaviour.