Key Takeaways
Equipment tracking shows you precisely where equipment is and how it's being used. But equipment tracking goes far beyond location and usage data. The latest equipment tracking technology uses sensors and advanced software to help businesses get comprehensive information that will reduce downtime, lower expenses, improve reliability, and enable you to manage equipment more effectively and efficiently.
---
What is Equipment Tracking & How Does It Work?
Equipment tracking is the practice of ensuring your most expensive assets are accounted for and being operated and maintained properly. GPS trackers are easily installed on backhoes, excavators, dump trucks, and other equipment and relay real-time data that integrates with telematics software.
Seeing location and other data in a single interface makes it easy to manage inventory, maintenance, fuel, and project time frames.

What Are the Latest Advancements in GPS Equipment Tracking?
GPS equipment tracking has long allowed equipment managers to check where equipment is. The latest systems don't only provide location information, however. They integrate that location data with OEM telematics and other data, so all aspects of equipment management can be more efficiently managed in one place.
When combined with data analytics and an experienced manager's expertise, equipment tracking has the potential to make significant improvements in costs, reliability, and project completion rates. Here are a few key components of equipment tracking.
1. Inventory Management
Sending equipment to where you need it most requires understanding where the equipment is, why it's there, and how or if it's being used. You don't want to know where it was yesterday or last week, but where it is right now.
GPS tracking provides real-time visibility of where each piece of equipment is and whether it's in operation. You can check whether excavators and backhoes are at the correct worksites, track the routes that dump trucks are taking, and proactively redirect equipment to where it needs to be.
Because today's more advanced GPS trackers can track a wide range of equipment types, you can also get full visibility over all of the assets powering your business not just your yellow iron and on road vehicles. This allows you to accurately monitor asset use across jobsites and make quick decisions on allocation. Having an effective inventory management process helps you to keeps jobs on track and reduces unnecessary rental costs.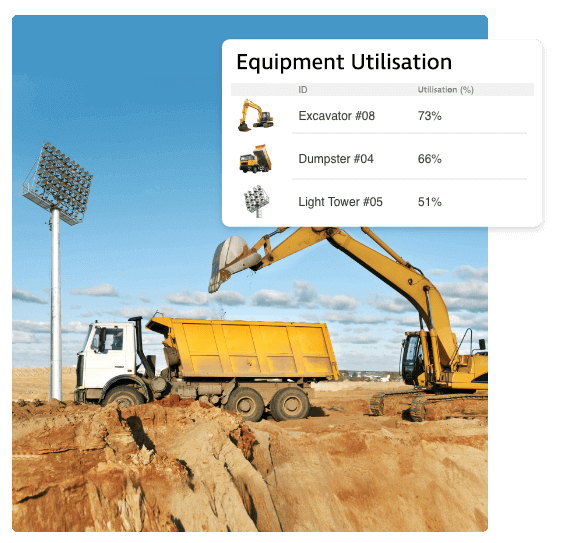 2. Digital Maintenance Planning
While digital maintenance planning has come a long way, paper-based processes are still mainstream. This presents a major issue when it comes to efficiency and productivity. Paper records can cause huge delays, contain errors, and can be lost or misplaced.
Digital maintenance tools, enable instant data capture for vehicle inspections and maintenance activities and make it easy for preventative maintenance programs to be executed, with automated tracking based on engine hours, failed inspections, or diagnostic code alerts.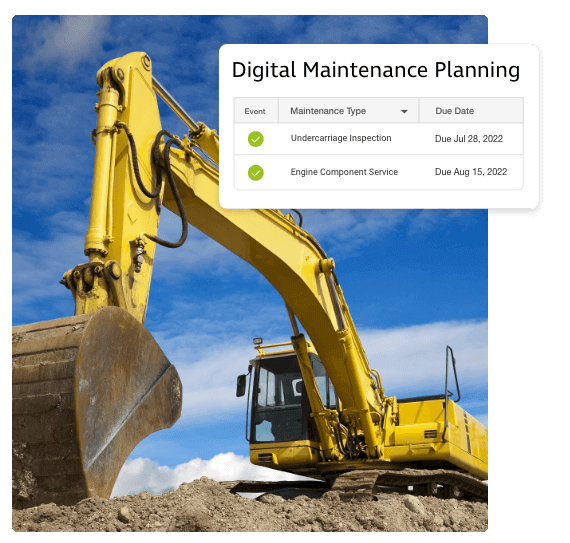 3. All Data in One System
You have vehicles, heavy equipment, light equipment, and tools — all different makes and models. A comprehensive equipment management solution allows you to see all data collected by factory-fitted or vendor-supplied devices in one, unified platform, including the ability to track non-powered assets. 
Having a vehicle tracking system and knowing where vehicles, equipment, and tools are located keeps them from disappearing, reduces time spent searching for them, and ensures service personnel have the gear they need.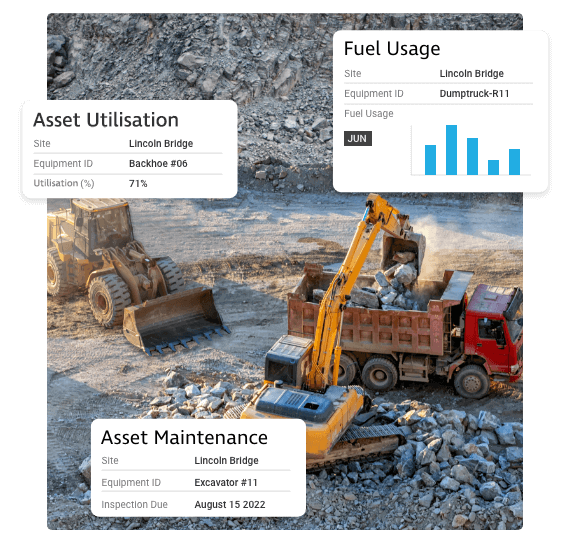 4. Streamlined Reporting
Having all your data in one system makes generating reports simple. You can track performance metrics across all of your equipment, and drill down to get insight for specific job sites or an individual asset.
Reports take a few clicks to run or can be automated and delivered to specific people on a set schedule. Extensive and customisable reporting gives the capability to instantly report on utilisation, maintenance, and fuel usage across all equipment, and by job site.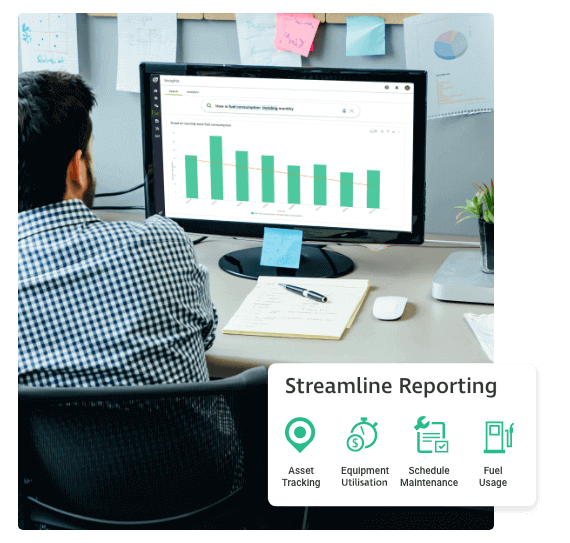 Benefits of the Latest Equipment Tracking Technology
The goals of equipment management are simple: reduce costs, reduce downtime, and improve overall efficiency. Accomplishing these goals is far from simple. Multiple pieces of equipment, numerous locations, and unexpected situations create an environment of constant change. The task is to manage this as well as possible.
That's where integrated equipment tracking technology comes in. It gives you the information required to reduce costs, reduce downtime and improve on time project completion.
1. Improve Equipment Utilisation
Find out how much and when equipment is in use to improve equipment utilisation determine where it should be assigned. On-site operators don't have a bird's eye view and occasionally even hoard equipment for their work. Utilisation reporting ensures you have accurate and complete usage data to get the most out of all equipment.
2. Reduce Rental Costs
When you can maximise usage and send equipment where needed, you can reduce rental costs. Managing maintenance schedules also minimises unexpected downtime and helps to reduce rental costs. Unplanned rentals hurt margins as they haven't been factored into job costing. Reducing unplanned rental costs is key to keeping jobs profitable.
3. Keep Equipment Operational
Digitised inspections and preventative maintenance plans help you schedule maintenance before unplanned repairs are needed. This reduces how much time the equipment spends in the garage and increases the amount of time equipment is working on job sites. Planned equipment maintenance can be scheduled and factored into project plans, resulting in minimal impact to a project's margin and timelines. Unplanned maintenance is costly in terms of rental costs and project delays.
4. Meet Project Timelines
From reduced downtime to better deployment, projects proceed more smoothly when you get equipment where it's needed. Job sites don't have to unnecessarily wait for machinery, which can hold up an entire project for hours or days. You can have higher on-time (or even early) completion rates when project timelines are more closely followed and also save on overtime rates that are all too common close to deadlines.
5. Cut Fuel Costs
With adequate maintenance scheduling, more efficient deployment, and on-site monitoring, you can minimise idle time and unnecessary equipment transfers between worksites. The former lessens equipment fuel costs, and the latter keeps truck fuel costs down. Cutting fuel costs and adding fuel efficiency becoming increasingly important as oil prices rise.
6. Bid More Competitively
The ultimate effect of minimising rental costs, fuel costs, and delayed projects is that you're set up to bid more competitively on new work. With lower prices and solid completion rates, you'll be well-poised to win more contracts, which ultimately means more work with greater profits.
How to Find the Right Equipment Tracking Technology
Selecting the right equipment tracking technology starts with knowing what information you need. Identify your specific equipment management goals, and then identify what data you'd need to make the decisions that would affect your goals.
For help identifying the specific equipment tracking technology that'll give you the data you need, work with Teletrac Navman. Teletrac Navman has experience working with equipment managers and takes a listen-first approach to solutioning. The consultants will work closely with you to identify your goals and data needs and develop an equipment tracking solution that will help you get to where you want to be. Get started customising your telematics solution today.