Telematics systems perform a range of functions by gathering vehicle location and activity data, and turning this into business insight. Telematics works by:
1.    Capturing vehicle location data via a GPS enabled device installed in a vehicle.
2.    Transmitting data captured over secure cellular networks
3.    Using a web-based software platform to present and visualise vehicle location and driver activity data
Explore Our Platform
Telematics has been widely adopted in a wide variety of industry since the turn of the millennium and has provided businesses with previously unobtainable information into both vehicle and driver performance. This has drastically simplified fleet management processes, and enabled significant improvements in efficiency and productivity.
Q: How are vehicle telematics systems installed and set up?
A: Once the telematics device is installed and hard-wired into the vehicles, the technology is able to capture both automated (such as locations and date/time) as well as driver captured (login, fatigue status) data and automatically transmits the information straight to the back-office via an online platform that interprets and displays it in an easy to understand format. While some telematics systems pull the vehicle data through the on-board diagnostics port (OBD-11) which in turn pulls the vehicle diagnostics however, CAN click technology can also be used for this purpose, is more reliable and does not run the risk of invalidating vehicle warranties. Vehicle trackers are equipped with SIM cards, which then transfer vehicle data to servers from where it can be accessed
Q: From start to finish, how does the technology work?
A: Once broken down, it's quite simple!
Satellite - The vehicle's position is provided by the GPS satellite to the telematics device fitted into the vehicle or equipment.
Vehicle - The information is transmitted between the vehicle and the telecommunications company via a wireless cellular connection (or alternatively through satellite communications).
Telco - The telecommunications company manages the communication between the vehicle and the secure hosted service centre.
Internet - The internet provides the means of transferring the information from the secure hosted service centre to your computer.
You - Via a web browser, you're able to access the information in real-time.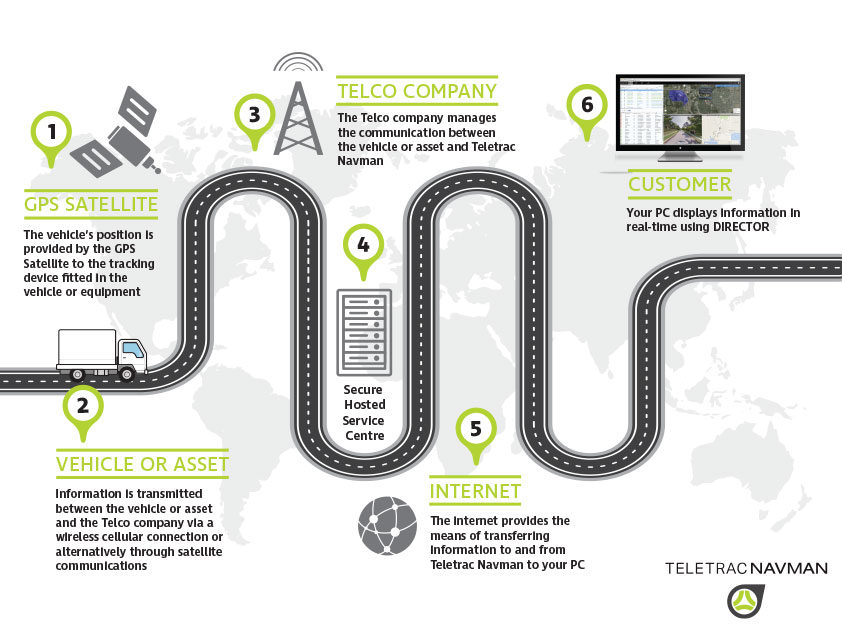 Q: What data is particularly important to business, and why?
A: Tracking, an often primary thought when considering GPS and telematics, is no longer about dot-on-a-map. The most valuable data produced is that relating to productivity – including trip reports, inactive reports and site reports – as this enables business owners and fleet managers to effectively manage remote resources. Location-based data is of particular importance to fleet operators, allowing them to keep track of assets and implement routing in real-time. You may also look for data on fuel efficiency (in other words, the true litres per 100 kilometre reading), vehicle engine idling and harsh usage (such as over-revving of the engine, rough braking and aggressive acceleration).
Businesses that choose to adopt telematics have far different individual requirements to do so, yet there are some overarching reasons common to all fleets. In particular, some major reasons include to  reduce risks, improve driver safety and reduce running costs. They will then look at individual datasets with these overall objectives in mind, and establish where improvements can be made. They may also examine telematics datasets over time, to see if any patterns emerge which may indicate any longer-term deterioration or improvement in specific areas.
Q: How can fleet managers make effective use of telematics data?
A: Having the raw telematics data on hand is one thing, but interpreting it and making good use of it is another. Big data has successfully proven to be an integral part of the decision making process in modern business, especially in construction and transport. Telematics and technology allows you to make better snap decision, analyse trends and improve the bottom line than ever before. But installing telematics into your assets is just the first step - instilling the use of technology to your staff as well as writing the use of the technology into your processes and practices is key. Ensuring your staff use telematics daily, will provide you and the business with insights that matter the most that you can rely on to action. Some examples of using data in the business include: to optimise routing, schedule maintenance (thereby potentially preventing unnecessary downtime, and cutting the costs associated with it), monitor fuel usage and more.
Q: How can telematics help deliver improvements in driver behaviour?
A: Telematics data can give fleet managers an exceptionally detailed view of the way their drivers conduct themselves while on the road. This in turn can highlight a wide range of driver safety concerns, alerting fleet managers to the need to devise a plan for addressing them. However, just having this data alone cannot deliver improvements in driver safety. Instead, fleet managers need to incorporate the information provided to them by telematics into a broader driver training and development programme. For example, positive rewards and healthy competition (such as driver league tables, with prizes for the safest and most-improved drivers) can help to improve driver safety standards and inculcate a culture of commitment to road safety among the driving workforce. 
One of the key advantages of telematics is that it provides fleet managers with the hard data they need to develop training programmes tailored to the needs of individual drivers, addressing specific areas of concern.