Key Takeaways
When many businesses consider GPS fleet tracking, secondary assets such as trailers and other non-powered assets are usually an afterthought. But the right GPS trailer trackers offer businesses real value, with the systems providing visibility into the location of trailers and their freight, maintenance management and theft prevention. To help you select the best system for your business, here are five critical elements to look for in a GPS trailer tracking solution.
---
1. Durability and Device Flexibility
Trailers often sit outside in harsh weather conditions so finding a durable GPS trailer tracking device is essential. It is also important to check that devices can't be easily removed or tampered with. Because your trailers are often not connected to a power source you will want to look for battery-powered or solar-powered devices, here is what you should look for in each type:
Battery-powered devices

Replaceable lithium batteries with up to 5-year battery life
Adjustable frequency
Ruggedized and IP67-rated dustproof and waterproof
Easy self-install
Low profile

Solar-powered devices

Battery backup with up to 7-year battery life
Accelerometer with motion detection and in-motion location updates
Ruggedised and IP67-rated dust-proof and waterproof 
Choosing the right device type is essential for success, and one of the primary factors to consider is location update frequency. If you require real-time updates when your trailers are moving, solar-powered devices are the way to go. If you only need to get location updates once or twice a day then battery powered devices would be the best fit. You can see our solar and battery powered devices below.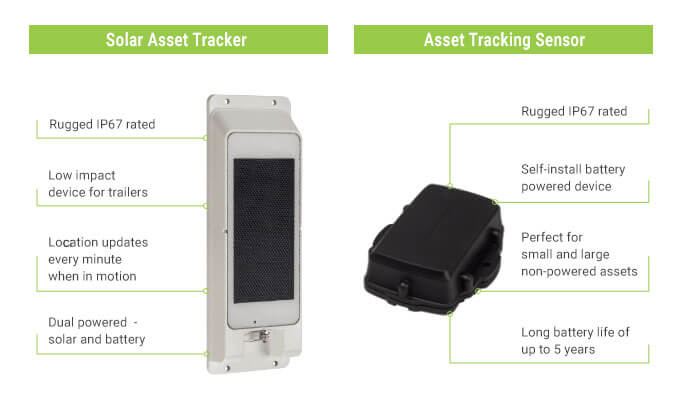 2. Location Tracking
Of course, location tracking is the number one benefit of installing a GPS tracker on your trailers. You can easily see how many trailers you have in action and how many are not being utilised. Professional installation helps ensure the reliability of data capture, security, and compliance.
The location features in trailer tracking systems can help your business by:
Increasing trailer usage - Trailers need to be on the road and full of loads to make money. Using location tracking allows you to determine if you have the right number of trailers so you can right size your fleet.
Completing maintenance - When it comes to completing maintenance knowing the location of each trailer means that you no longer have to spend time locating where a trailer has been left.
Reducing loss and unauthorised use - With visibility into trailer location and motion alerts tied to geofences, you can always account for your trailers and be alerted to any unexpected movement.
Improving customer service - If you are using a GPS trailer tracking system, you know the location of each of your trailers at any given time, so you can keep your customers updated on the location of their freight.
Locate Your Trailers & Optimise Capacity
See how our gps trailer tracking solutions help you to increase utilisation and improve security.
Learn More
3. Maintenance Planning 
Taking care of the equipment in your fleet is essential, and this starts with routine maintenance and regular inspections. Trailer maintenance can be managed through digital maintenance programs to streamline this process. Digital maintenance software is designed to automate the maintenance scheduling process to ensure that every trailer is brought in and maintained on time, helping to ensure compliance and reduce unscheduled downtime.
The maintenance planning tools allow you to create scheduled maintenance events based on time or distance travelled and also incorporate digital inspection tools so any defects can be reported instantly and rectified quickly.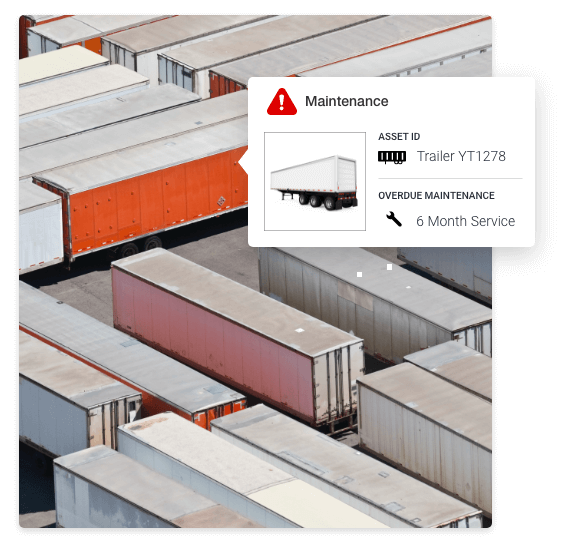 4. Alerts and Notifications
GPS trailer trackers are designed to protect trailers from being lost or stolen, and help to keep equipment and freight safe with tools like geofencing and calendar templates.
Geofencing is a geographic technology that allows you to draw digital boundaries around specific areas, and you can monitor when trailers leave or enter that location. You could geofence a specific job site, depot, city, or beyond, and receive alerts when a trailer enters or leaves that location. You can also setup timeframes when your trailers, or group of trailers shouldn't move, using a calendar template tool. If a trailer moves during that time you can receive alerts. 
You can also receive alerts for any reported issues on pre/post trip driver inspections, and make sure that corrective maintenance is scheduled, helping to keep your drivers safe on the road. 
5. Analytics and reporting
Like other fleet management tools, GPS trailer trackers can provide valuable data about the usage and safety of your trailers, and it is important that the software has the analytical capability to turn this into useable insight. It is important to ensure that the software not only enables you to see current location and status, but gives you easy access to historical reporting, this is particularly important when using the data to assess capacity requirements.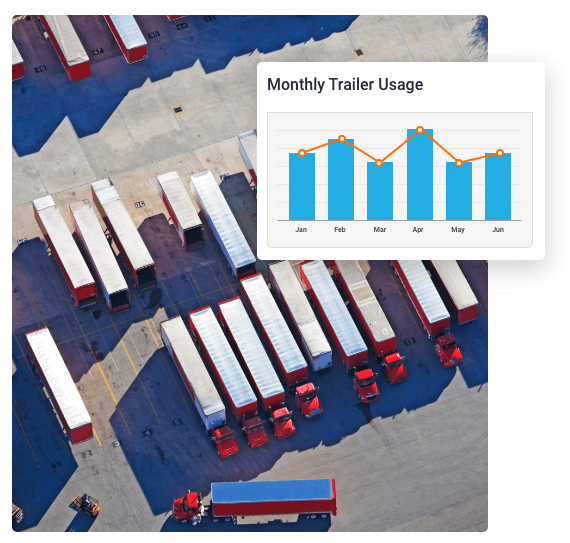 Time to Turn to GPS Trailer Tracking
Check out our trailer tracking information to assist you in choosing the right GPS trailer trackers. Teletrac Navman is a leading provider of custom solutions in fleet management software and have solutions that help business manage a wide range of vehicles and assets. Build your solution using our online product builder and see a solution that is designed to meet your needs.