Electronic Road User Charges Management
ELECTRONIC RUC MANAGEMENT
Road User Charges Made Easy
Teletrac Navman RUC Manager is an electronic Road User Charges (eRUC) solution that manages, purchases, displays and updates road user licences in real-time. With the ability to automatically tracks vehicle mileage, the solution uses high-definition GPS data to calculate road activity for accurate and maximised RUC refunds.
Build Your Solution
Get the eBook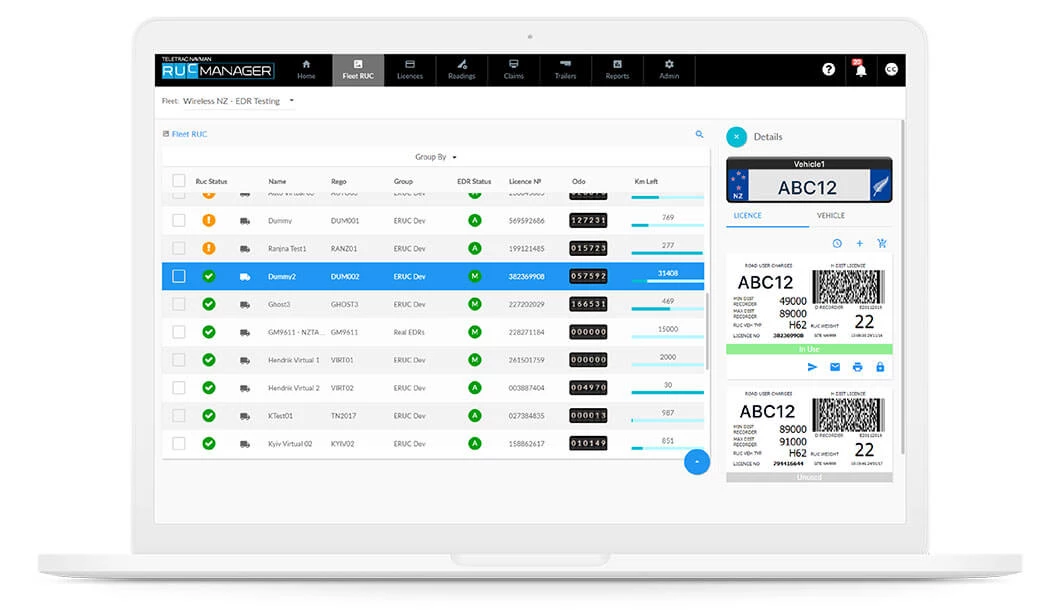 "It's a smart little system, it prevents you running out of RUC licence, it also sorts where you travelled, calculates the o-road distances and submits the claim to NZTA. I get back the o-road money and renew the licence without wasting time." - Sean Sparksman, Operations Manager, Mangonui Haulage
ELECTRONIC DISTANCE RECORDER (EDR)
Accurate Electronic RUC At All Times
With an electronic distance recorder (EDR) affixed to the windscreen of the truck or fitted to wheel of the heavy-trailer, RUC Manager enables your business to streamline the entire RUC process and automates RUC compliance. With the time saved, you are able to increase focus on the things that matter – like running your organisation.
Automated method of electronic RUC management for heavy trailers
Large, clear, scannable display – no more crawling under the trailer to read the screen
Simple installation on a range of hubs and axles – less time off the road
Self-powered device that generates power from the wheel's rotation, no wiring necessary
RUC MANAGER
Why Choose RUC Manager?
The managed environment consists of a device that is specifically designed for forward-thinking transport operators to help connect them to technology and a new world of information.



Improve Cashflow
Streamline RUC licencing by purchasing RUC as you need it
Accurate NZTA-accepted off-road claims calculations automatically completed
Ensure you receive your maximum off-road refund entitlement and don't leave money on the table
Save Time
Automate the purchasing of new RUC licences with no paperwork or manual processing

RUC licences easily distributed to vehicles electronically

Automatic off-road activity tracking and off-road distance calculation

Off-road claim forms prepared automatically and emailed directly to NZTA
Reduce Paperwork & Risk
Highly accurate distance tracking through high-definition data with a driver facing odometer display for simpler logbook entry

Evidence-based claims provide an electronic record of off-road RUC entitlements for auditing and requires no paperwork

Automatic purchasing of new licences keeps your vehicles RUC-compliant and reduces the risk of fines
THE BENEFITS
What Will RUC Manager Do For Your Business?
Electronically managing road user charges can provide a myriad of benefits to the business. Here's just a couple.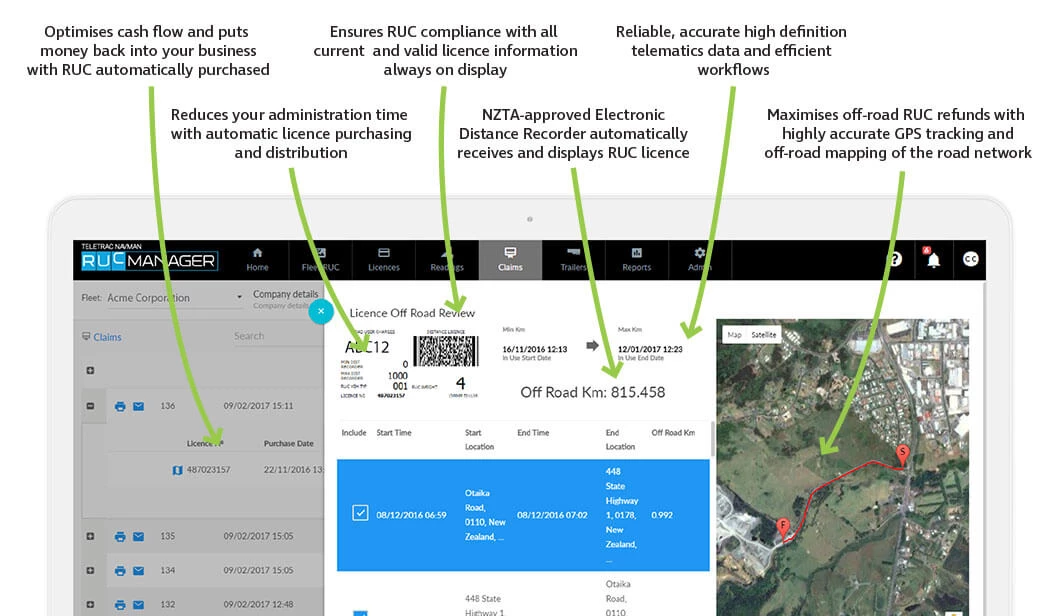 "Before we installed Teletrac Navman's RUC Manager some of the trailers had often travelled more kilometres than we had paid RUC for, which led to a few administrative headaches. Now we don't have any issues at all with maintaining compliance, everything is monitored online and is easily checked." – Robin Thomas, Owner Operator, HIAB Transport
How It Works
Intelligent Electronic Road User Charges Solution
1
A high-definition GPS device is fitted to the vehicle and an electronic distance recorder (EDR) is attached to the windscreen of your truck or to the wheel of your heavy trailer.
2
Using the phone network for communication, the distance travelled is reported automatically.
3
Via an online management portal, purchase RUC via an NZTA-tested-and-approved electronic purchasing system.
4
Distribute purchased licences to any vehicle at any time. The EDR device automatically receives the new licences to display.
5
At all times, highly accurate off-road vehicle travel is automatically calculated throughout New Zealand – no more guesswork!
6
Review complete reporting for licence purchase and fleet status. Full transparency of auditing off-road activity by vehicle, summarised for your entire fleet.
7
Automatically prepared claim forms are completed with all relevant and accurate information and emailed directly to the NZTA, saving you time and ensuring maximum ongoing refunds.
The Resources
More Resources