Key Takeaways
The TN360 Inspections App is a flexible tool built into the TN360 platform that simplifies the capture of maintenance and compliance information. it enables drivers to complete a wide range of digital checklists, including vehicle pre-trip inspections and driver fit for duty assessments, direct from the in-vehicle device. The simple and easy-to-use interface is designed to help the driver walk through each step of the checklist digitally, and provides prompts on actions, like follow up questions and photos. The app instantly sends checklist information once submitted to TN360.
---
What is the Inspections app
Inspections is an application that allows drivers to complete and store daily checklists that need to be completed to meet compliance, safety and business needs. The app allows drivers to easily complete pre-built templates such as pre-trip inspections, and is really flexible, allowing you to create a checklist for almost any scenario.
Through a dedicated module within the back-office fleet management system, you can create your own thorough checklists to match and enhance existing businesses processes. With multiple question input types available, such as yes/no, text, signature or photos, it allows fleet managers to create a workflow around questions answered by drivers. It also allows for follow up questions to be asked if a question is marked as failed by the driver, so information can be collected for immediate action to be taken. Instant electronic reporting is available, complete audit reports are a few clicks away, giving businesses an easy and convenient way to comply and keep on top of maintenance records. 
What are the key features of Inspections
Easily create and manage checklists via a dedicated checklist builder.

 

Synchronise with all vehicles or selected fleets within the business.
Review completed checklists and export direct to Excel to ensure readiness for audits.
Provides an extra level of assurance to comply with Health and Safety at Work Act (HSWA) requirements.
Creates a simple workflow for drivers to fill in information, take photos and submit checklists.
Real-time alerts raised when faults are detected. 
View previously completed checklists for the driver to ensure previous faults on the vehicle are fixed.
Pick up on faults immediately, giving you the ability to order parts ahead of time or ground vehicles before they leave the yard.
Helps to protect drivers and the wider community while vehicles are on the road.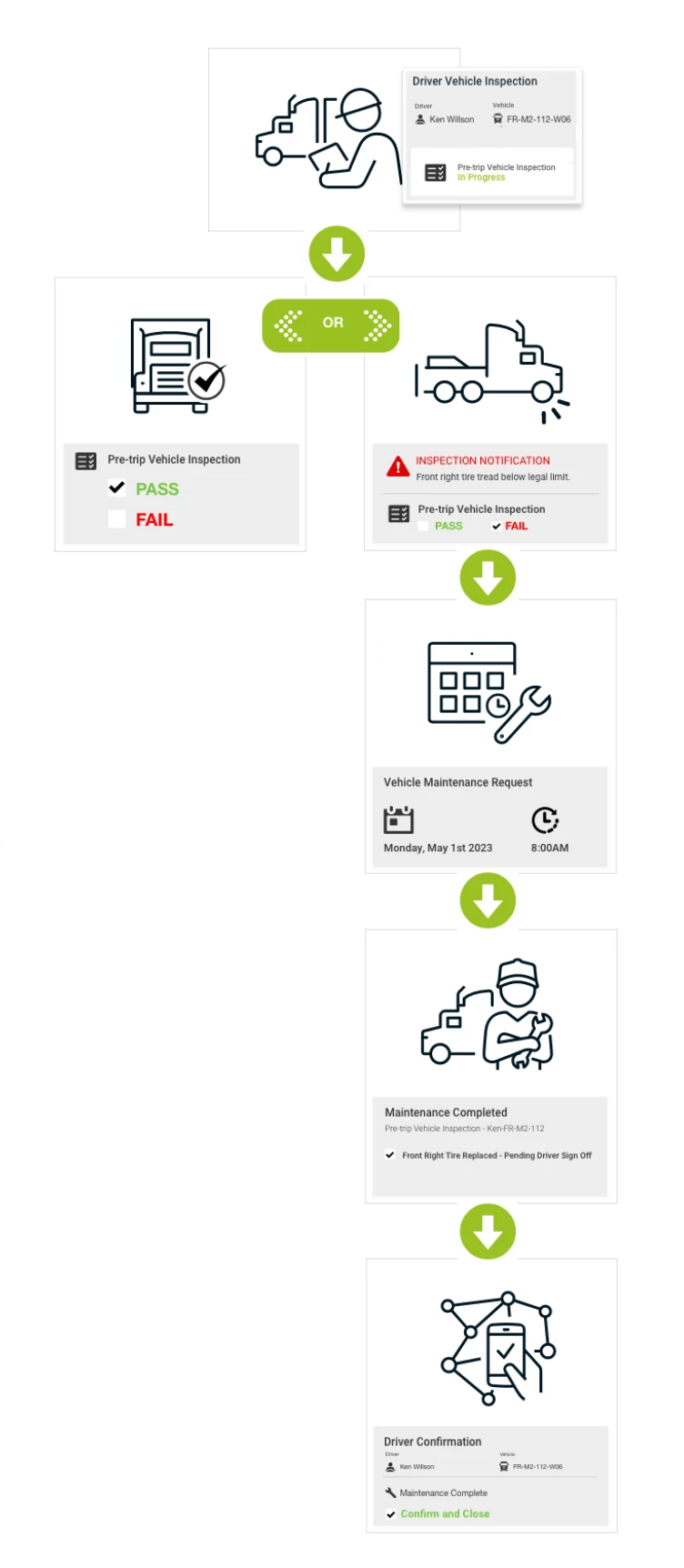 What makes the Inspections app unique
The application has been built specifically for businesses that require a digital solution to help with both productivity, and those that make compliance and safety a top priority. The ability for the business to create an unlimited amount of checklists, and have drivers sign them, can be shared easily with select fleets, or business wide. You can also automate escalations for urgent issues so you can take quick action to mitigate business impact. 
When paired with the maintenance module within TN360, it becomes a powerful means to optimise fleet maintenance and service schedules to ensure all vehicles, trailers and machinery are at the highest standards. 
Further more, the Inspections application forms part of an entire eco-system of applications available to your business through a dedicated and rugged in-vehicle device. With other applications alongside Pre-Trip Checklists, like an Electronic Driver Logbook, Instant Messaging, Job management, and more, you are able to customise the solution to meet your specific needs. 
How can the Inspections app help your business
Businesses see an instant impact by removing paper processes that delay data capture, prolong the administrative burden on their drivers and are prone to data loss. Creating digital processes improves the accuracy of the data captured, ensures that information is instantly accessible, increases visibility into issues and improves user experience. Moving to digital checklists also enables you to automate business processes and speed up problem resolution, helping you to offer the service levels your customers demand.
What does this mean in simple terms? Before starting their journey, the driver completes the required Inspections. If any item fails, the maintenance team are instantly notified through real-time alerts and can stop the vehicle leaving the site to help rectify the issue quickly and get the driver on the road safely. If the the driver is already on the road, the maintenance team is instantly able to order any required parts and have them ready to install upon return. 
This process allows the business to have a trail of positive information and records against each vehicle to ensure that all assets are maintained correctly and are safe to operate at all times. When paired with the maintenance module within TN360, this can be furthered by being able to create scheduled maintenance works against the vehicle instantly with a few clicks of a button and some added information. For a business operating around the clock to keep business profitable, this is very important to ensure the operation is able to continue to operate successfully, as well as ensure that all assets, that often cost hundreds of thousands of dollars, provide a meaningful and elongated return on investment.