What is GPS Fleet Tracking?
GPS fleet tracking is the process of using telematics to give fleet managers, business owners, and other leadership team members greater insight into fleet operations. Using a combination of software and hardware devices, fleet managers can gather near real-time information about their fleets in order to make data-driven business decisions.
While GPS fleet tracking systems using satellite and cellular technologies have been in use for many years, modern fleet tracking systems go beyond this basic information. New technologies have created greater visibility into everyday fleet operations, including driver behavior monitoring, vehicle maintenance management, and deeper integrations with other business platforms. When paired with artificial intelligence, GPS fleet tracking tools can completely revolutionize a business by grouping millions of available data points into easy-to-digest and actionable insights.
Together, these tools give decision-makers up-to-date and accurate data on factors like vehicle usage, fuel consumption, total time spent on site, and more. Armed with this information, fleet managers have everything they need to make decisions with confidence and increase the return on investment from their vehicles and other assets.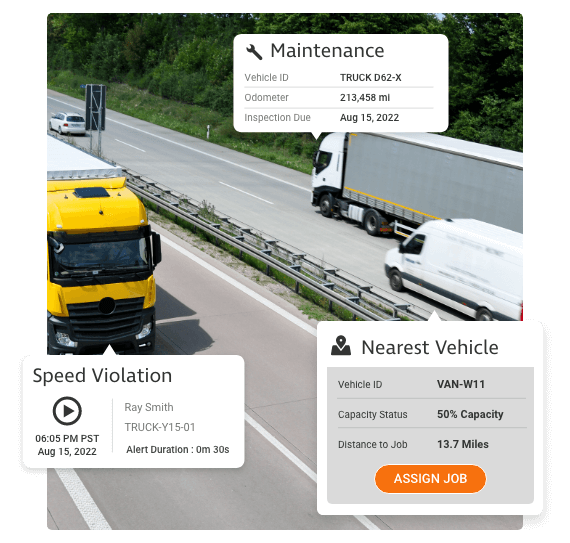 Benefits of Investing in GPS Fleet Tracking
GPS fleet tracking technology offers a number of benefits for businesses. While GPS fleet tracking has been available in some form since the 1980s, modern technologies make data collection and organisation easier than ever before. Where previous systems were limited to basic information like vehicle location, fleet managers can now gain valuable insight into driver behaviour, compliance, vehicle maintenance, and job management.
These systems can improve business operations significantly in a number of ways:
Create accountability among employees. Clear performance metrics will allow standout employees to receive recognition while also highlighting employees who may need additional training. The result is an organisation where all members of the team can take ownership of the work being performed.
Lower long-term operational costs. While some organisations may hesitate at the expense of implementing GPS tracking technology, these systems will essentially pay for themselves over a short period of time. With a fleet tracking system, organisations can lower operating expenses through increased efficiency and better utilisation of assets while also preventing misuse of resources.
Improved safety for employees and members of the public. An integrated driver safety system can ensure safer driving conditions, decrease liability risk and protect organisational reputation by providing better insight into how fleet vehicles are being used every day.
Compliance with regulations. Whether it's fatigue, Road User Charges (RUC), or one of the countless other regulations your fleet must follow, GPS fleet tracking software can streamline the compliance process with digitisation and automation.
Some businesses are also investing in GPS fleet tracking to stay connected to their drivers. Many solutions include mobile apps that connect drivers with dispatchers to streamline job assignment and communication. Having dedicated channels that offer instant data transfer ensures that important information like route changes, job status updates and proof of delivery are always recorded.
Andrew Rossington, Chief Product Officer, explains how mobility can take you anywhere:
What Industries Use GPS Fleet Tracking?
From smaller operations to enterprise organisations, businesses across a wide range of industries can benefit from a fleet tracking system. While specifics of implementation may vary depending on the needs of the business, here are some of the primary ways different industries utilise GPS fleet management:
These examples represent only a small sample of the ways in which GPS fleet tracking systems can be used to enhance business operations. Check out our customer stories for more ways these technologies can create more efficient business operations.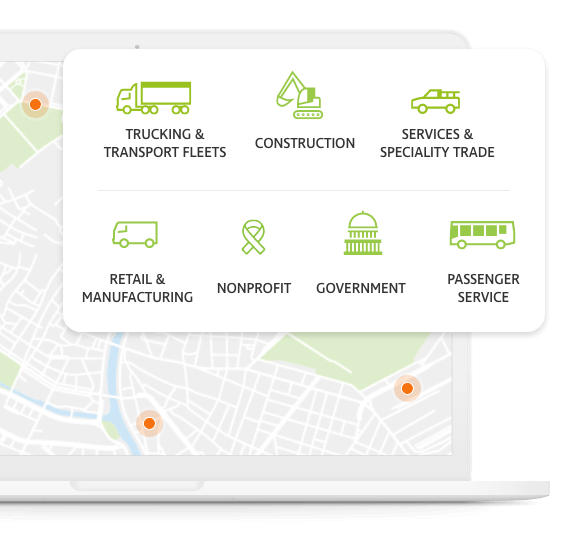 The Different Types of Fleet Tracking Devices
All fleet tracking solutions require a small telematics device to be installed. There are a wide range of different device types that offer different functionality. The three most common devices are:
Managed install devices: These are hard-wired into vehicles and are tamper resistant for greater security. These devices are often chosen when the data being gathered is required for compliance or critical to business operations. Hardwired devices also have greater connectivity to peripheral devices and sensors, providing users with more in-depth insights into operational performance.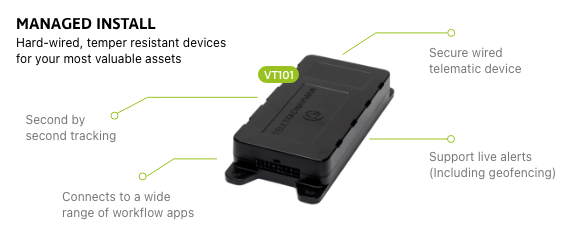 Self-install devices: These are plugin devices that are simple to install and easy to move between vehicles across a fleet. Businesses choose these devices when the data being collected isn't required for compliance, when vehicle turnover is high or when using a large number of rental vehicles for operations.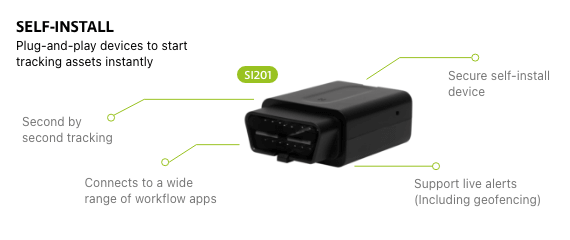 Phone-based tracking: These solutions use apps which turn a smartphone into a tracking device. These solutions offer limited sensor and vehicle connectivity, and they are usually preferred when the main business focus is either to manage workflow (such as job dispatch and POD) or when the business wants to track employee locations away from the vehicle.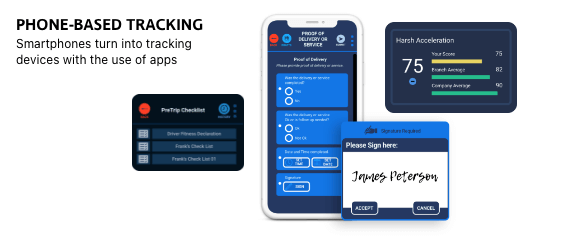 What Driver Apps Can Be Used with GPS Fleet Tracking?
Mobile apps can provide additional functionality for GPS fleet management software. These enhancements include features like the ability to conduct digital pre-trip inspections, upload and store documents, get turn-by-turn navigation and manage daily run sheets. Here are just a few of the mobile apps available today: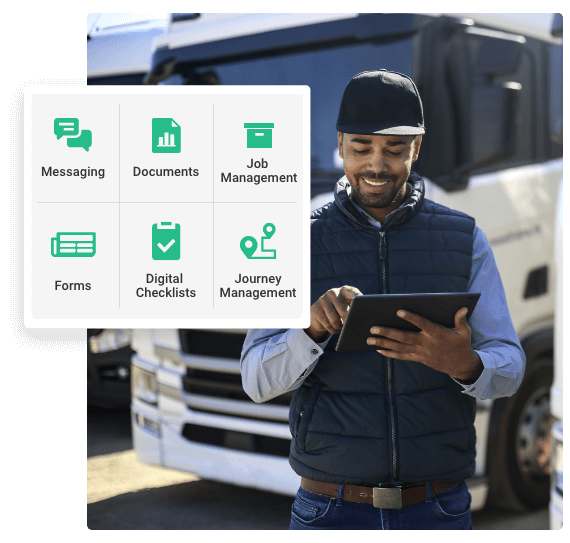 GPS Fleet Tracking Features
Track your vehicles in real-time
See all of your vehicles in real-time in a way that improves safety, security and efficiency. Using GPS technology and an installed telematics device, fleet operators can see where vehicles in their fleet are at any given time, allowing for better customer communication, increased revenue, and driver monitoring.
Locate all your powered and non-powered assets in real time and improve utilisation. Asset tracking increases efficiency by providing insight into equipment assignment and usage. These systems also discourage theft and misuse by constantly monitoring company assets.
Integrated Smart Dashcams give you complete visibility into driver behavior. Camera data can be used to ensure safe driving habits while also protecting drivers and owners from fraudulent insurance claims, lawsuits and other legal disputes.
Power take-off sensors measure a variety of activities on vehicles and equipment. Additional sensors can be added or removed from the system based on the unique needs of a business.
DVIR
A Driver Vehicle Inspection Report (DVIR) ensures vehicle operations and safety issues are well-documented. With a fleet tracking system, these daily logging tasks can be performed quickly and accurately while also making the fleet management process more efficient as a whole.
Get driver scorecard reports based on key performance metrics to give impactful coaching to drivers. These scorecards can ensure high-achieving employees are properly highlighted, and lower scoring employees.
Make informed decisions on driver With more data available, dispatchers can ensure drivers are used most effectively and in the correct location at the correct time.
Keep all of your critical documents in one platform for easy management and distribution. This functionality simplifies reporting, accounting and compliance initiatives.
Make sure your drivers are taking pre-set routes and get alerts of unscheduled stops. This allows fleet managers to more efficiently control resources and offers greater versatility when situations require altered plans.
Get maintenance alerts and simplify preventative repairs while controlling costs. Detailed logging can help reduce the incidence of unexpected costly repairs which could have been avoided with scheduled maintenance.
Create ad hoc and reoccurring customized reports or use pre-built templates. These individualized reports can be altered based on current needs and scaled to fit future operations.
Connect software applications used throughout your business and streamline workflow. Reduce the need for redundant systems and additional training while automating time-consuming data entry tasks.
See vital performance trends and patterns, and discover areas for improvement. With an intuitive user interface, actionable data is placed at a user's fingertips, allowing for more effective decision making.
ELD Compliance
Comply with the electronic logging device rule and become more effective at HOS management. An integrated fleet tracking system simplifies the reporting process for companies in order to ensure compliance while reducing or removing an operator's tracking responsibilities.
HOW DO YOU CHOOSE A FLEET TRACKING SYSTEM?
Once a company has decided to pursue a fleet tracking system, the buying and implementation process can seem like a daunting task. Though the process may seem complex at first, an organisation can lighten the lift by approaching the research phase of buying with clear goals and a thorough understanding of their current operations. Factors to keep in mind include:
Budget allotment for a fleet tracking system

Included hardware and software features categorized as "must haves," "nice to haves" and "nice, but not necessary"

Scalability to meet your needs today and in the future

The full scope of the onboarding process including training and any downtime
For more information, check out the Ultimate Buyers Guide to Fleet Tracking Software. In this article, we take a deeper look at what you need to know about the entire buying process from start to finish to help you find the right solutions for your needs.
GPS Fleet Tracking
Frequently Asked Questions
Fleet tracking uses global positioning systems or cellular towers to monitor the current status and activity of all tracked assets, including not only vehicles and equipment, but workers as well. This data is transmitted back to a cloud-based software application where it is analysed and presented on an easily digestible dashboard in real-time.
Because GPS fleet tracking uses satellite technology, it is very accurate and offers real-time insight into your fleet. For location information, these devices are accurate to within three meters. When operating in areas with no service, the system can store data on the device and upload when service resumes to ensure data integrity.
Just a few examples of the types of land-based vehicles you can track with GPS fleet tracking include cars, vans, trucks, trailers, construction equipment and unpowered assets. 
Modern fleet tracking systems are entirely cloud-based, allowing them to access via a web-browser, such as Microsoft Edge, Google Chrome or Safari. These cloud-based platforms also mean your important data can be accessed from virtually anywhere with an internet connection.
Most GPS fleet tracking providers offer both live and on-demand virtual training options. In addition to instructor-led courses; on-demand videos, tutorials and other al-a-carte training materials are built into our software platform to allow users to learn at their own pace.
It's important to choose a GPS fleet tracking provider that offer the level of support you and your organisation need. These services can run the spectrum, from white-glove support to full self-service. Support comes in many forms, including:
In-App Support
Online Chat
Phone
Email
Teletrac Navman provides support with industry-leading response and resolution times. Plus, we go above and beyond typical support channels to provide in-person roadshows, online training webinars and pro-active platform updates and information.
GPS fleet tracking devices can be installed in one of two ways:
Professional installation: Devices are hardwired into the vehicle by a licensed professional, providing a secure, tamperproof product.

Self-Install: Plug-and-play devices are easy to self-install and offer more flexibility when transferring the device from one vehicle to another.
The applications are currently available in the App Store and Google Play. You can see the range of apps that are available and these are constantly being added to.
Our Enterprise tier at Teletrac Navman offers not only a dedicated account manager and professional services support but also the option for custom analytics, dashboards and integrations.
No. Our software can be accessed from any computer or Android mobile device with an active Internet connection. So once your telematics devices are installed you will be able to get access fleet insights straight away.