Key Takeaways
Construction and infrastructure services are in high demand and businesses with the ability to maximise efficiency on and off the jobsite will have an advantage in today's market. And that's where construction equipment tracking software and GPS Asset Tracking comes into play.
This article focuses on helping you better identify the top 5 warning signs that your company needs technology and a digital solution to help manage equipment management. These top 5 warning signs include: 
Construction Project Cost Overruns
Construction Equipment Rental Cost Increases
Construction Job Bidding Challenges
Rising Construction Equipment Maintenance Costs
Unplanned Construction Equipment Downtime
We will discuss the warning signs of which your business should be aware and how an equipment tracking solution can help. The right equipment tracking solution can revolutionise how you manage equipment with better insights into when, where, and how your equipment and workers are performing, maximizing efficiency, and reducing costs.  
---
Construction Equipment Tracking: 5 Warning Signs
Construction Project Cost Overruns
As many as 9 out of 10 construction projects experience a cost overrun, according to the International Journal of Innovation. While that's partly due to the significant increases in material and labour costs over the last two years, most overruns signal a deeper systemic issue.
Job overruns provide a stark signal that you need an equipment tracking solution.
A telematics solution, which helps businesses better understand equipment usage and productivity issues, can spot issues before they become major problems and help mediate cost overruns, including equipment rental and unexpected downtime, early in the process.
Construction Equipment Rental Cost Increases
As post-pandemic construction business picks back up, many contractors rent equipment to meet the increase in demand. But before you turn to renting, it's vital to have a complete inventory of the tools and equipment you already own. Telematics and equipment tracking software will not only track where your equipment is, but also how it's being used, when it's being used, and provide insights into how to get the most out of the equipment you already own. By minimising equipment hoarding and fully utilising your assets, you can significantly reduce rental costs. 
Construction Job Bidding Challenges
Putting together a winning bid is a sophisticated process. It's more than just numbers on a page. A low-ball bid can cost you and your business big time. A construction equipment tracking solution will:
Provide historical data on equipment usage for various projects
Help businesses bid more aggressively by fully utilising owned equipment
Provide visibility into future equipment availability
Reduce unexpected equipment downtime
Rising Construction Equipment Maintenance Costs
Equipment maintenance is one of the largest expense areas for most contractors, just below fuel and labor costs, according to the Telematics Benchmark Report. Maintenance tracking features available in telematics systems help ensure your equipment is receiving its regularly scheduled maintenance and other maintenance-related issues are being picked up and resolved through digitised equipment inspections. This reduces unplanned equipment downtime, saves on rental costs and extends the life of your equipment.
Unplanned Construction Equipment Downtime
Anytime a construction site stalls due to a non-functioning piece of equipment, you're losing money. Poor maintenance is just one of many causes of equipment downtime. In fact, according to Industry Week, unexpected equipment downtime costs businesses $50 billion a year. Equipment tracking enables your team to focus on proactive measures, provides valuable insights into prioritisation, increases efficiency, and encourages appropriate corrective maintenance activities.
How Does Equipment Tracking Help?
No matter how big or small your fleet of equipment is, underutilisation is likely a problem. Whether an asset is sitting idle on another job site or is in the shop for unplanned maintenance, the costs associated with low-performing equipment are significant.
Equipment tracking helps in the following ways:
Increased Asset Visibility: Knowing where, when, and how your equipment is used is crucial to your success. Location tracking provides key visibility into when equipment is available and where it is located. It cuts down on equipment hoarding and increases productivity significantly.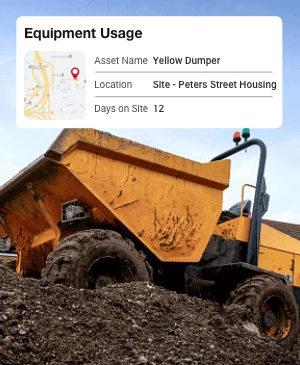 Increased Equipment Utilisation: It happens all the time. A job is delayed for one reason or another and a piece of equipment just sits there until the work resumes. Equipment tracking software alerts equipment managers to idle or under-utilised equipment so that it can be used elsewhere, reducing rental costs and increasing productivity.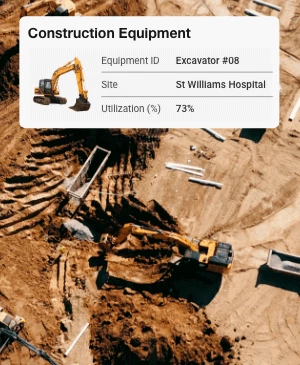 Improved Equipment Maintenance: Proactive maintenance helps increase equipment lifespan and reduces unplanned downtime. Software allows routine maintenance to be conducted seamlessly, limiting disruption.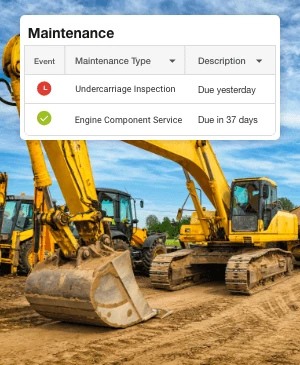 Digitised Inspections: Digitized inspections speed up maintenance, safety, and other downtime-related issues by getting the right information to the right people quicker. Paper-based inspections are slow and ripe for human error.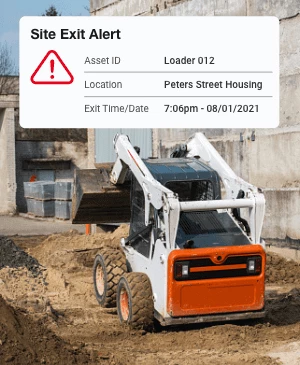 Construction Equipment Tracking Solution
A construction equipment tracking solution is an important aspect of any growing construction business. Tight profit margins and increasing costs make the construction industry an increasingly competitive industry to do business in. The right telematics solution can help. For more information about how we can help take a look at our equipment management software .