Key Takeaways
TN360 Scorecard is a module that leverages the data produced within your vehicles to provide a high-level view of driver performance. By assigning scores to key safety metrics like speeding and key efficiency metrics like idle time, you can quickly compare driver performance across your fleet. With an application available to the driver in the vehicle, they can view their performance compared to their peers. As each driver strives to be number one on the scoreboard, performance is improved, costs are reduced, and the business can help ensure driver's get home safely after each shift.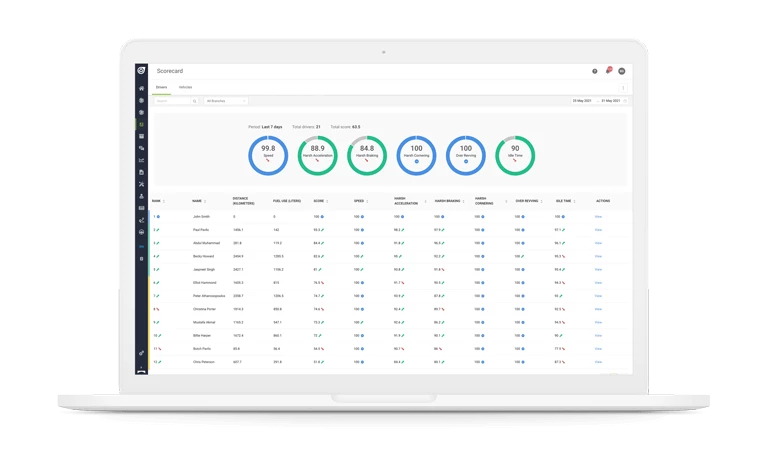 What is Scorecard
Scorecard is part of the TN360 platform and includes a web-based module for back-office staff and a driver facing application. Driver performance is measured across 6 key safety and efficiency metrics and normalised over distance travelled. The scorecard module allows you to control the points scored for each of the above metrics.
Those metrics are:
Speed
Harsh acceleration
Harsh braking
Harsh cornering*
Idle time
Over rev*
Within the easy-to-read interface, you can see who has improved from last week or last month and will allow you to drill down to see each driver's performance right down to each individual day. This can help with induction and training initiatives by highlighting areas where efficiency can be improved and personalised coaching for drivers in areas that require attention. If drivers are scoring poorly for idle time, TN360's Insights can be used to drill down and identify the areas where idle time is costing your business money.
For the driver, they gain access to an application on their in-vehicle device. From there, the driver can see their overall score and progress along with the ability to drill down to each individual metric, like harsh acceleration, to see their individual scores and information within.
What are the key features
Key features include:
Easy-to-understand scoreboard that displays metrics around performance and safety
Personalise the system by setting points scored by buckets against each metric
Visual design displays the fleet average by metric across the business
Breakdown of each driver's scores – graphical view by day for the last 7-day period alongside their score, the branch average, and the company average for each

Colour-coding per driver to show their current rank – green for an increase, red for a decrease and blue for a consistent rank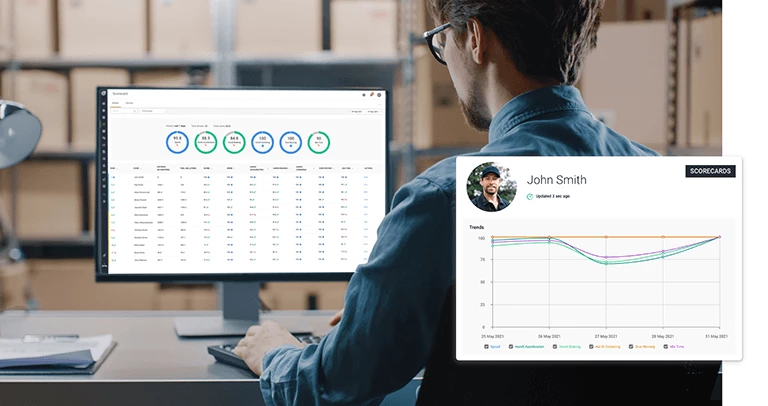 How can scorecard help your business
Scorecard in TN360 provides the right kinds of insights you need to help improve your business. The benefits are tangible.
Coaching & Training – with real-time insight into your drivers, you can instantly see where each driver can make improvements. With real data, you can provide corrective training and coaching in the areas that make a difference. Providing transparency to the drivers on their performance drives improvements as they strive to be the top ranked driver.
Efficiency – with better on-road performance, business efficiency can continue to improve on productivity. The Scorecard metrics are focussed towards improving driver performance and efficiency, meaning less time spent on managing issues and more time spent on productive tasks.
Maintenance – with immediate stats into each area of each vehicle, not just driver, you can see how each is being operated. You know the areas your vehicles are harshly used and can keep a better eye on their upkeep to ensure optimal performance.
Cost reduction – better driving means better returns. It also means you can help reduce costs. Harsh usage means higher fuel burn, but improved driving habits reduce the rate fuel is used, saving tens of thousands of dollars alone per year.
Asset ROI – vehicles are expensive pieces of machinery. Ensuring you get the best performance and longevity is important. With Scorecards, you're able to keep an eye on each vehicle's conditions in real-time.
* Hardware dependant. 
Frequently Asked Questions
Want to find out more about Scorecard?
Scorecard has been built into TN360 from years of industry input and requests, customer and driver feedback and years of improving on a solution that is also designed to improve safety outcomes for all businesses. The driver scorecard application is a great tool to provide drivers with instant feedback relating to their driving behaviours and can be used by fleet managers to reward good driving habits.
Learn More