Key Takeaways
Keeping your fleet in top working order is imperative to your company's success, with maintenance failures leading to project delays, wasted time, and wasted money. Fleet maintenance software can help mitigate these problems. The software allows for regular maintenance checks, reduces paperwork, and reduces vehicle and equipment downtime. Let's explore the features a fleet maintenance solution should provide.
---
What Should You Look for in a Fleet Maintenance Software Solution
Fleet maintenance software should provide insights, tools, and structure to the maintenance manager. These insights allow maintenance managers to make informed decisions about increasing fleet performance. When reviewing fleet maintenance software it is important that you evaluate how the tools will help you achieve your maintenance objectives, which usually fall into one, or a number of, the following categories.   
Minimising vehicle/equipment downtime

Catching potential problems early

Reducing paperwork

​​Streamlining the maintenance process
Let's explore each of these areas in more detail below.
Minimising Downtime
Unplanned vehicle maintenance creates equipment downtime, which can lead to extended project times, job delays and costly-overruns. Fleet maintenance software gives managers visibility into scheduled maintenance tasks enabling them to plan maintenance activities around work commitments. Maintaining these schedules is easy and can be automated based on odometer readings, engine hours or fixed timeframes. 
Fleet maintenance software not only lets managers effectively plan maintenance schedules, it also allows managers to proactively stock frequently used parts for upcoming maintenance. By proactively forecasting the need for certain parts you can prevent vehicles being off the road due to stock shortages, which is even more important with todays supply chain challenges.
Through proactive resource planning and preventative maintenance schedules, fleet maintenance managers can keep their vehicles and equipment operational and improve overall health and reliability.
Catching Problems Early & Preventive Maintenance
Fleet maintenance issues can have adverse effects including project delays and increased costs. Fleet maintenance software helps avoid these problems by catching them early or preventing them with preventative maintenance schedules. The software enables managers to create schedules that keep track of maintenance needs across your fleet and allows rules to be set about when vehicles should go in for maintenance. For example, if a vehicle hits a specific mileage on its odometer, the system can send notifications on maintenance due at that milestone.
Maintenance managers can also use this feature to decide when to retire a vehicle from the fleet. Eventually your organisation will have to replace vehicles and equipment and with a maintenance database, managers can make decisions on which replacements need to be prioritised based on running cost. These rules can also apply to other pieces of equipment within the fleet including generators, light towers and trailers.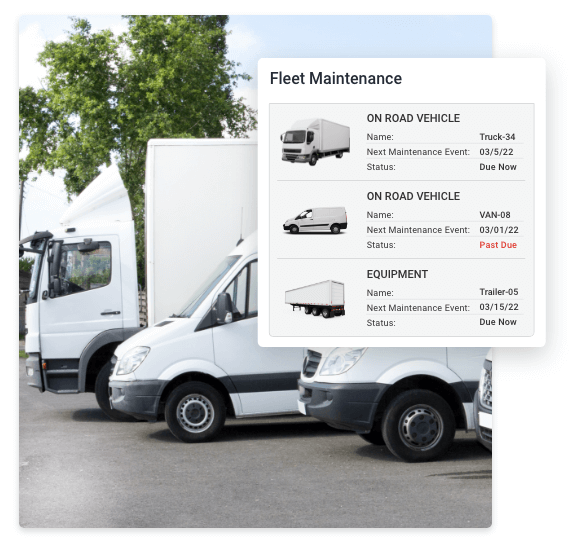 Reducing Paperwork
Paperwork is a reality of running any business, but fleet maintenance software can reduce the workload. By digitising maintenance processes you can bring all maintenance information into one location so you can easily organise schedules and keep records for your fleet. Maintenance software should have the ability to create maintenance schedules, show when maintenance is due, record when maintenance has been completed and capture key information including who completed the maintenance, the cost and supporting documents, such as invoices or notices.
Maintenance software should also have the ability to link with pre-trip and post-trip inspection applications. These tools are usually based on mobile apps and provide drivers with a structured form that they need to submit prior to starting, and after they have completed their journey. Information captured in these forms is recorded and any maintenance issues found are instantly reported to the maintenance team so they can schedule in the work.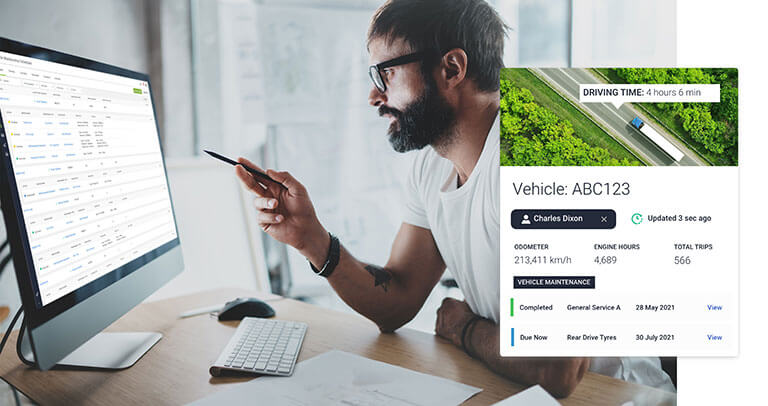 Streamlining the Maintenance Process
The final benefit is streamlining the maintenance process. Managers will have the ability to see technician productivity, the history of every vehicle and asset, maintenance cost details, and written reasons why repairs were necessary. With all the data in one place, maintenance managers can run a more efficient department. 
Digitising the maintenance process removes disconnects from each phase. Taking maintenance digital allows managers to:
Create maintenance schedules based on data from vehicle/equipment use and suggested maintenance time tables, depending on the vehicle or asset being maintained.

Receive automated reminders when vehicles and assets are due for service.

Submit work requests digitally, which reduces waste and creates a digital trail of accountability.

Report on maintenance records and asset health to leadership at all levels of the organisation.
Tips for Finding Fleet Maintenance Software Providers
When searching for a new partner, you should reach out to at least three different vendors on the market. By interviewing three vendors, you will learn what features are standard and which are more difficult to find. Make sure to ask for a demo of the product before onboarding with a new solution provider. Finally, it's essential to understand how involved the onboarding process will be. If you're unhappy with your current provider or if your contract is expiring or up for renewal, make sure to do your research and ensure you're set up with the right partner for years to come.
Making a Fleet Maintenance Software Decision
After reading this article, we hope you learned what a fleet maintenance system can do for your organization. At Teletrac Navman, we offer our own enterprise fleet management software with a fully integrated maintenance solution. Our software brings together telematics, workflow applications, maintenance planning and driver safety solutions into one platform that will allow your maintenance teams and entire business to reach higher levels of efficiency. If you're interested in finding out more about if our solution is right for you, or to get pricing, contact us by completing the form.