Key Takeaways
Messaging from TN360, is an all-in-one application that allows you to create personalised messaging for re-occurring - or immediate - communications, fleet-wide updates, automated messages based on certain events and more.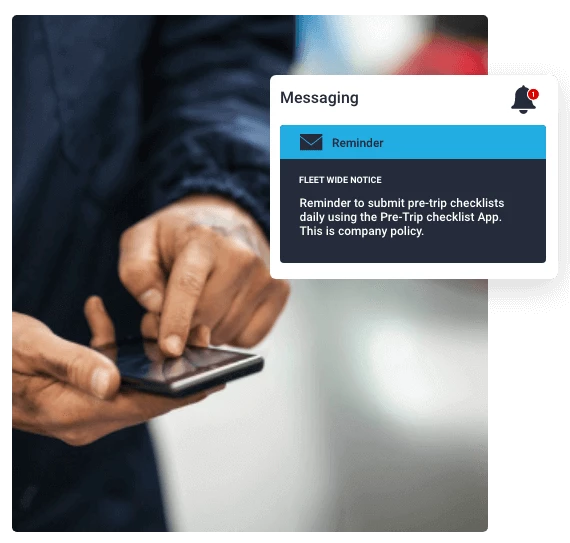 What is Messaging
Messaging is a feature of TN360 that allows users to message a driver, a specific group of drivers or broadcast messages across an entire fleet. The user-friendly application available through the the MT201 device provides drivers with immediate access to the messaging center so they can quickly and easily read and respond to messages when needed. The application is highly customisable and has the ability to track the readership of critical messages.
Key features include:
Instantly send messages to any driver or vehicle in the fleet

Simple yet familiar interface for drivers and back-office staff to view and send messages

Set messages that require the driver to acknowledge

Central inbox functionality, allows for the entire team to see the messages, ensure nothing is left unseen

Create pre-defined canned messages to simplify the process of sending standard messages to drivers

Audio/visual prompt when a new message is received on the in-vehicle device

Ability to send 'route-to' messages to drivers that provide turn-by-turn navigation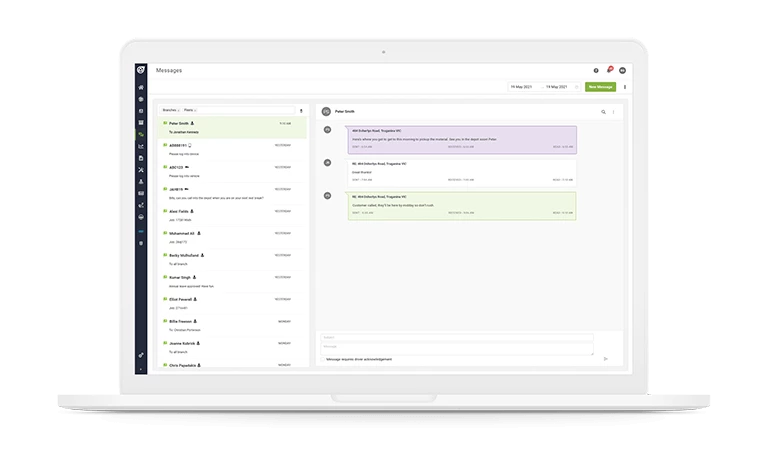 What Makes Messaging Different
Communication is key to any successful business, but ensure it's done so in a safe manor is important. Relying solely on texting and phone calls direct to the driver's mobile is fraught with inconsistencies, patchy reception, and not to mention, illegal when operating a vehicle. Designed specifically for fleet operations, Messaging enables drivers to stay connected through a dedicated communication channel.
The solution provides business owners and fleet managers with a centralised location to manage driver communication, making it quick and easy to send messages to a single driver or to an entire fleet. It enables you to send specific messages based on activity recorded within the application, for example, if a customer has specific delivery instructions, these can be automatically sent to driver when they enter the site.
Through the in-vehicle's device, the driver gets a huge 7" display's worth of real estate to be able to type out their message with ease. In an age where the average age of drivers is increasing along with the diverse landscape of cultures now behind the wheel, the MT201 provides an easy to way to help ensure your drivers can read and write messages.
How can Messaging Help Your Business
Messaging provides a central location for all your communication in the business, giving you full visibility into the messages sent to and received from your remote workers. This helps businesses to streamline and improve communication processes.
Broadcast messaging: Ensure that all drivers have the most up-to-date information by sending a message to your entire fleet. This can range from timesheet reminders, traffic updates or fleet policy reminders. Messages can also be sent with a requirement for drivers to acknowledge readership - a valuable feature for messages related to compliance. 
Centralised location: A single view into all communication that is easily searchable so you can find the information you need quickly.
Accountability: View all communication and remove he said/she said situations, including the ability to mark messages that force the driver to acknowledge they've read and understood it
Automation: Bringing communication into your telematics platform enables you to automate message delivery based on recorded events (i.e. entering or leaving a customer site).
Notifications: Audio visual alerts when a new message is received, along with if it requires acknowledgement.