ELECTRONIC DISTANCE RECORDER (EDR2)
Hub-Mounted Electronic Distance Recorder for Trailers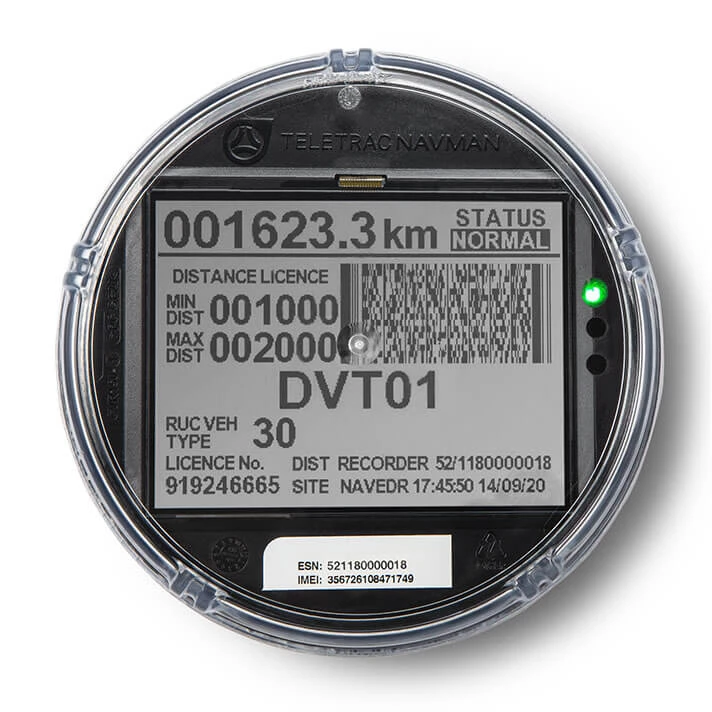 Teletrac Navman's Electronic Distance Recorder (EDR2) automates trailer Road User Charges (RUC). 
Approved by New Zealand Transport Agency (NZTA), the EDR2 device is a self-contained and completely sealed unit that generates power directly from the wheel's rotation. There are no wires and no interference with the trailer ABS, EBS or other systems. 
Via Teletrac Navman's RUC Manager, licences are purchased and automatically transmitted to the device - no more lost RUC tickets, no more paperwork or manual purchases. 
With the EDR2's connection to Teletrac Navman's fleet management software, the solution delivers trailer tracking functionality with second-by-second precision. Off-road claim distances are calculated directly for the trailer and the claim form is generated with a few clicks and emailed to NZTA. 
With the EDR2, operators can track the movements of the trucks and trailers as they roll in and out of the work area created using geofencing features. This allows for accurate distance measurement for your trailer, providing a way to proactively manage maintenance independently of the prime mover. 
ELECTRONIC DISTANCE RECORDER (EDR2)
Features & Benefits
Automated method of electronic RUC management for heavy trailers

 

Large, clear, scannable display – no more crawling under the trailer to read the screen

 

Simple installation on a range of hubs and axles – less time off the road

 

Self-powered device – generates power from the wheel's rotation, no wiring necessary

 

Does not interfere with ABS, EBS or other electronic safety systems on the trailer

 

Sealed and self-contained unit – internal generator, self-charging battery, antennas, wheel rotation sensor, GPS, modem and display

 

NZTA approved for use as a measure for Road User Charges on trailers, including for use on piggy-back trailers

 

Provides a level of assurance on trailer security - no where your assets are at all times

 

Ability to monitor vehicles entering and exiting sites via geofencing

 

Proactive management of trailer maintenance by keeping track of distance travelled to ensure they are maintained correctly

 

Tamper detection and reporting