Key Takeaways
Fleet management is a series of processes that allows organisations to see and manage all information associated with their vehicles and other assets, from acquisition through to end of life. As technology has advanced more businesses have turned to fleet management software to provide better visibility into vehicle and asset utilisation, improve maintenance planning and manage cost of ownership. As the role of the fleet manager evolves more businesses are finding value in digital processes that remove inefficient manual tasks and streamline activities.
---
What is Fleet Management?
Fleet management has completely transformed over the last ten years as businesses start to see the impact that an efficient fleet can have on business operations. It now covers much more than procuring and maintaining vehicles, and fleet management teams are now responsible for a wide range of activities including driver management, compliance management, operational efficiency and environmental impact.
As the fleet manager's role continues to evolve more teams are turning to fleet management software that gives them a platform to record and access the information that they need to keep up with the ever-changing demands of their role.
The right piece of software can provide fleet managers with complete visibility across their fleet operation and help them streamline day-to-day tasks and identify deeper issues that impact fleet and business performance.
What is a Fleet Manager Responsible For?
Among other things, fleet managers are responsible for keeping up with routine vehicle service and maintenance to ensure things are running as efficiently as possible at all times. This can include making inspections, scheduling maintenance, reporting, and more.
Fleet managers are also tasked with setting organizational guidelines for vehicle purchasing and retiring, setting goals (and expectations) for driver performance, and paying attention to key metrics that shed valuable insight into fleet and individual vehicle/driver performance.
Fuel consumption and fuel costs, as well as asset utilisation and route planning, can also fall under the fleet manager role. In general, the fleet manager owns and champions the company's telematics system or fleet management software, such as TN360.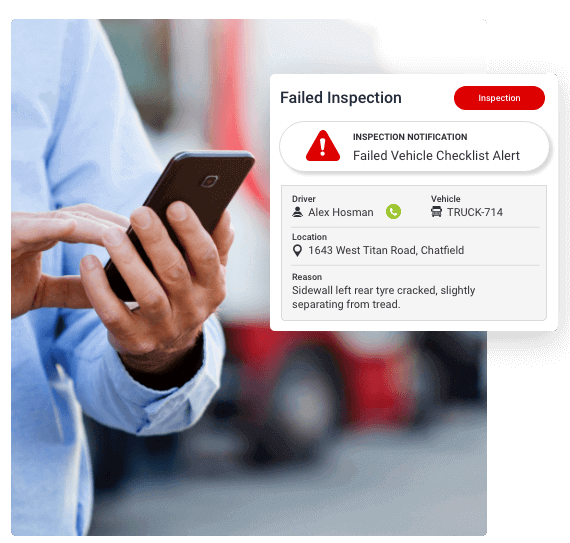 Digitisation & Fleet Management Software
Over the last decade, fleet management has become increasingly digitised thanks to the continued evolution of fleet management software, mobile applications, and a deeper level of system integration. Our range of fleet management solutions are designed to digitise your entire operation, key areas include:
Maintenance planning: A digitised schedule helps ensure vehicles receive routine maintenance and enables fleet managers to spot and remedy excessive wear and tear before it becomes a major issue. This, in turn, reduces vehicle downtime and maintenance costs.
Dispatch/Job Management: Digital job management enables you to create and assign daily run sheets and one-off jobs to your team, monitor progress and automate customer communication from one application. These tools also include proof of delivery (signature and photo) and help to streamline process workflow.
Driver Safety: Getting real-time driver behaviour data and the automatic creation of driver risk profiles helps fleet managers to identify drivers who are high risk and build out tailored coaching programs. Many fleet management systems can also create driver safety league tables that can be used for safe driving incentive programs.
These types of solutions make the role of a fleet manager far more manageable, as they act as a single source to gain real-time visibility into the status of the entire fleet. Not only that, but it also makes it easier to transfer information across your business — especially when your fleet management software is integrated with other applications used across the business. This speeds up the rate at which data can be transferred, increases efficiency, and empowers better and more informed decision-making. Watch the video below to see how TN360, our latest fleet management platform, helps businesses turn data into decisions.
Why Do Businesses Use Fleet Management Software?
Fleet management software provides a wide range of benefits, including real-time visibility into fleet location and performance, cost analysis and improved driver behaviour. Modern fleet management software goes beyond location tracking by offering insight into vehicle performance and efficiency, presenting data in a way businesses can easily understand.
Fleet management software can help you obtain objective information into driver safety, highlighting dangerous practices, such as speeding or harsh braking, and identifying drivers who need more coaching. 
The technology can also help support proactive maintenance efforts, allowing fleet managers to get the most out of their assets by implementing preventative maintenance schedules. Many businesses also utilize mobile apps that enable instant data transfer and accessibility, this is helping them to quickly identify issues that may have gone undiscovered or turned into larger problems.
In a recent exercise, we outlined the top 5 KPI's for fleet managers and how telematics can help to track them. See the results below.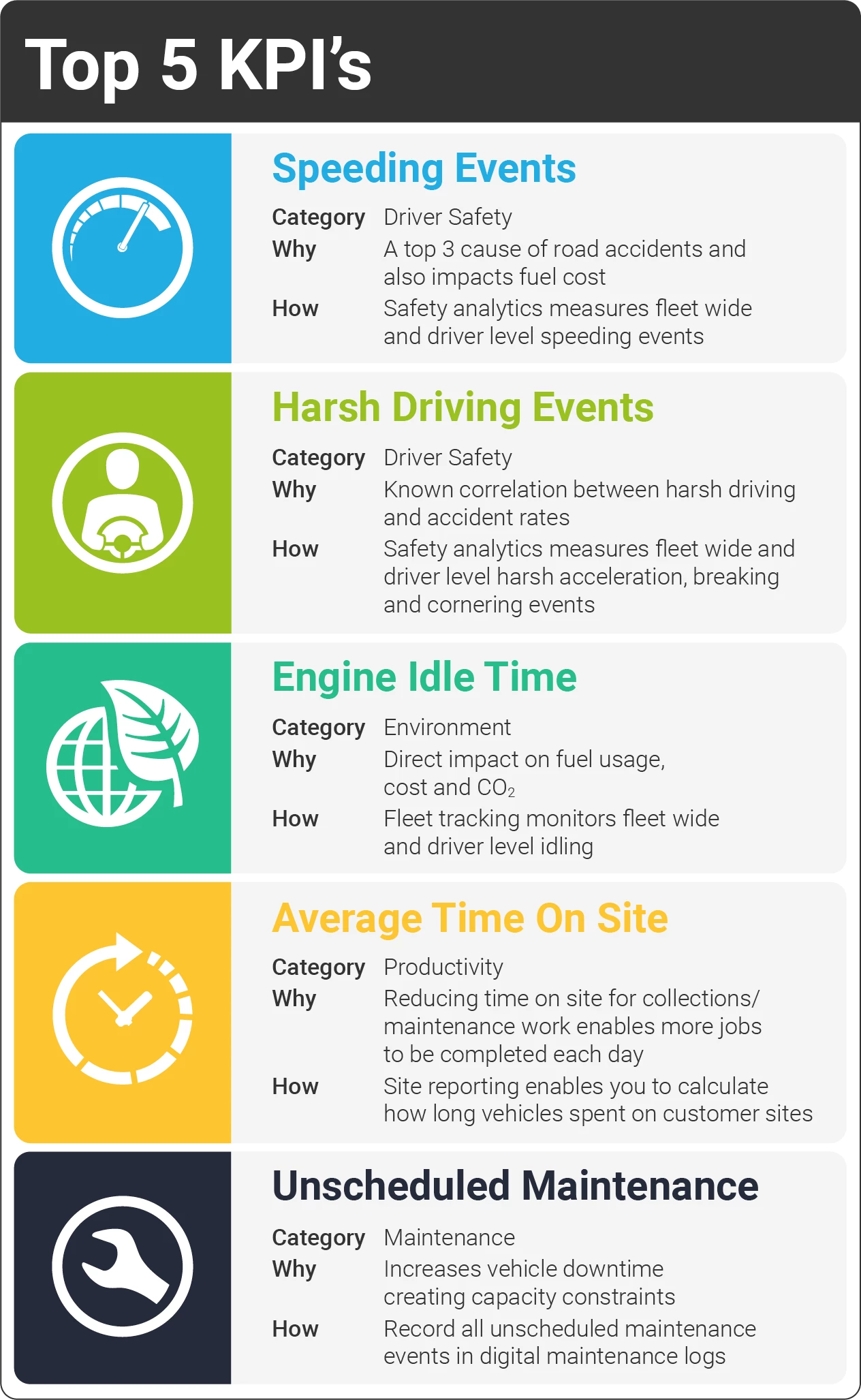 What Should Fleet Managers Look for in Fleet Management Software?
Fleet managers should always make sure to invest in a cloud-based fleet management system. Storing data in the cloud means that information is accessible 24/7/365 from any device and in any location with an active Internet connection. This is especially helpful for fleet managers who may need to spend a lot of time in the field but still need to keep a watchful eye over the fleet. 
Core functions a business should look for in fleet management software include:
Automation tools: Custom alerts and in-cab notifications can inform drivers and fleet managers of route changes, vehicles being off course and poor driving behaviours in real-time.
Data Insights: Having data is one thing. But being able to understand and turn data into decisions is crucial. Customizable dashboard and reports that use artificial intelligence can highlight and anticipate problem areas in advance.
Safety Analytics: Safety is a key component of any fleet management software platform. Understanding where your vehicles are located and how they are being operated is essential to maintaining a safe workplace.
Performance Measurement: Vehicle performance and utilisation are perhaps some of the most important factors in controlling costs associated with your fleet. From performing routine maintenance to spotting vehicle performance issues before they become a problem, fleet management software helps ensure you get the most out of your investment.
Fleet Management
Frequently asked questions
Fleet management software uses GPS technology to provide constant, real-time updates into the exact location of fleet assets. A GPS tracking device, cameras and other sensors installed in the vehicle record and transmit data via a cellular network. A cloud-based software program then analyses and presents the data on clear, easy-to-understand dashboards and other reports.
The amount you will pay for fleet management software depends on the size of your fleet and how many assets you need to track. Most telematics providers, including Teletrac Navman, operate on a Software-as-a-Service (SaaS) model, meaning you pay a monthly subscription fee per tracked asset.
KPIs related to cost control and budget adherence are always important to track, including total cost per mile and total fuel expenses. KPIs related to safety and driver behaviour are also essential. They allow you to help to ensure that your vehicles, your drivers, and others on the road are as safe as possible at all times. 
This will vary depending on the provider you choose to work with. At Teletrac Navman, you get support through the purchasing phase up through deployment. Dedicated team members are also available to help.
Our professional services team* provides white-glove support throughout the entire process, and a dedicated account manager helps ensure success throughout the life of the relationship.
*qualifying customers/ at additional cost.
Yes, you can use fleet management software to track the cost of maintenance across your fleet. Measuring items, such as repair turnover rate, can help you stick to your preventative maintenance schedule and prevent unexpected downtime. It can also help you identify the optimum window for vehicle maintenance and replacement as well. 
You can use fleet management software to track vehicle needs and base maintenance intervals on real-time odometer readings. You can also implement digital vehicle inspection forms that allow you to identify and resolve problems quickly.